Hey there, fashionistas! I'm thrilled to dive into the trending accessories of 2023 with you.
In this style-packed article, we'll explore the top accessory trends for fall 2023. Fall is always an exciting time for fashion, and this year is no exception.
From high-quality pearls to chic pointed shoes, we'll guide you through the essentials to rock the season in style.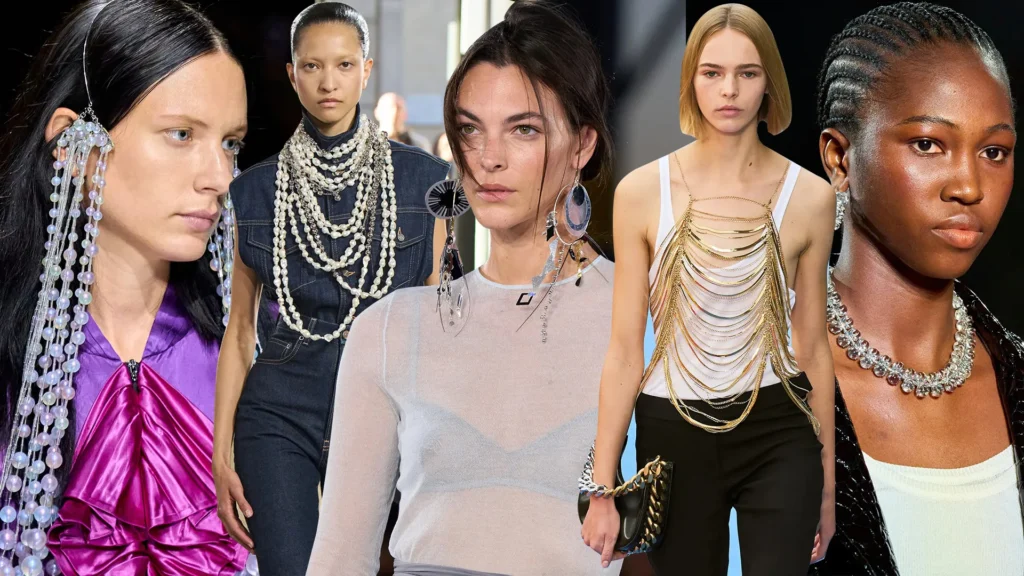 Trending Accessories for 2024
Shimmering Pearls and Circular Charms: Unmissable Trends
When it comes to selecting jewelry, the options are as diverse as your personal style.
From timeless pearls to the contemporary elegance of sterling silver and the dazzling brilliance of diamonds, the world of jewelry offers a myriad of choices to suit every taste and occasion.
Whether you prefer the classic allure of pearls, the understated sophistication of sterling silver, or the luxury and glamour of diamonds, your jewelry selection is a reflection of your unique style and can effortlessly elevate any ensemble.
Jewelry Selection: Pearls, Sterling Silver, and Diamonds
In Gingiberry's collection, you'll find jewelry of extraordinary beauty, like the Serenity necklace, featuring pearls ranging from 5 to 7 mm and an 18-carat gold chain. It offers a unique 2-in-1 fit.
The Ocean earrings make a style statement with freshwater pearls of 7.5-8 mm and solid 18-carat gold.
On the other hand, the WaterLight Pro necklace is a luminous masterpiece with pearls ranging from 6 to 7 mm and precious metals like sterling silver and 18-carat gold.
Lastly, the Mocaccino necklace, in 18-carat gold, exudes minimalistic chic with a unique play of light. Make use of our exclusive discount code – Cris15 – for a 15% price reduction on all Gingiberry items and embrace timeless elegance.
Check My Amazon Selection!
Dive into my Amazon selection and upgrade your shopping game!
Red is the New Black
Furthermore, the color red is set to steal the show in fall 2023. It's not limited to clothing and shoes; it's also making a statement in accessories, including jewelry.
Creating a "red capsule" in your wardrobe empowers you to enhance any outfit, even the most understated ones.
Red, known for its vibrancy and versatility, suits all occasions. If you're searching for a new bag or clothing piece, consider red to infuse a dash of boldness.
Tartan Scarves and Stoles: Versatile Styles
Scarves and stoles, especially in tartan patterns, are making a triumphant return. Besides keeping you warm on chilly days, these versatile additions to your wardrobe can completely transform your look.
By pairing them with a monochromatic ensemble or a casual outfit, tartan scarves and stoles are perfect for experimenting with a unique and refined style.
Pointed Shoes: Elegant Versatility
Pointed shoes are taking the fashion world by storm this season. They're not limited to flat shoes but also include pointed-toe flats, boots, and ankle boots.
These elegant pointed tips elongate your silhouette and add a touch of class to any outfit.
Mango Top Picks for The Season:
Elevate Your Style with the Season's Must-Have Mango Clothing Picks for a Perfect Capsule Wardrobe:
They offer a comfortable and sophisticated alternative to the overly pointed shoes of the early 2000s. There's no excuse not to incorporate them into your wardrobe.
Handle Bags: Versatile and Stylish
Handle bags are one of the hottest trends this year.
They're perfect for daytime use and add a touch of retro flair to your looks. Choose your favorite model for a fresh twist on your style.
Where to find the best luxury handle bags at great prices:
Where To Buy Chic and Practical Handbags:
Metallic Accents for a Radiant Season
Metallic accents are the latest trend this season, spanning various categories from jewelry to shoes to bags and clothing.
These metallic elements, ranging from statement jewelry to more subtle clothing details, bring brightness to your looks.
They're perfect for gloomy days and upcoming holiday festivities. A beautiful piece of jewelry is an investment in your style that will stay with you over time.
And even more top trending accessories for 2023 to enhance your wardrobe:
Finally, let's delve into a few additional accessory trends for 2023 to further elevate your fashion game:
Crystal-Embellished Hairpins
Add a touch of sparkle to your locks with crystal-embellished hairpins, a must-have for fall 2023.
Oversized Sunglasses
Stay chic and shielded from the sun with oversized sunglasses, a timeless accessory with a trendy twist.
Crocodile-Embossed Handbags
Make a bold statement with crocodile-embossed handbags, the perfect blend of sophistication and edge.
Chunky Chain Necklaces
Chunky chain necklaces are back in style, offering a bold and contemporary look for your outfits.
Velvet Headbands
Velvet headbands bring a touch of luxury to your hair accessories collection, perfect for fall.
Statement Belts
Elevate your waistline with statement belts, a versatile accessory that cinches your style.
Suede Ankle Boots
Suede ankle boots are a fall staple, combining comfort and fashion effortlessly.
Leather Gloves
Stay warm and stylish with leather gloves, a practical accessory for chilly autumn days.
Animal Print Scarves
Animal print scarves add a wild touch to your fall ensembles, a nod to nature-inspired fashion.
Tassel Earrings
Tassel earrings swing into the spotlight, offering movement and flair to your jewelry collection.
Discover H&M's Top Basics for the Season:
Give your style the essential boot with H&M' must-have clothing pieces for the perfect capsule wardrobe:
Conclusion: Embrace Fall 2023 Trends
In conclusion, the fall 2023 accessory trends promise to revolutionize your style. From high-quality pearls to luminous metallic accents, you have a wide range of options to express your personality through accessories.
Choose the trends that inspire you the most and create unique looks that will make you shine this season.
Thank you for joining me on this journey through the fall 2023 accessory trends. Don't forget to subscribe to my YouTube channel to stay updated on the latest fashion trends.
I hope these trends inspire you to experiment and transform your wardrobe with style.
SHOP MY OUTFITS!
Discover the ultimate fashion inspiration at my "Shop my outfits" blog page!