How to style the Breton striped sweater? Or, more in general, how to style a striped sweater or shirt, a very trendy piece this year, but also an all-time favorite for many women?
Usually, the striped sweater – or Breton sweater – is white with blue stripes or blue with white stripes, but there are many interesting variations in black and white, white andh red and in many others.
There are also options that, deforming the original design, make it something completely different.
In any case, the classic sailor-inspired striped sweater remains a great spring-summer classic.
And wardrobe classics, regardless of personal taste, are always very useful for creating lots of new and interesting outfits.
But how to style a great Breton striped sweater? I collected some ideas, with the help of Pinterest, which as always proves to be an inexhaustible source of ideas and photographs.
WHERE TO FIND THE IDEAL STRIPED SHIRT?
 I did a little research for you and there are my favorites!

You can find even more ideas HERE.
BUT LET'S SEE SOME OF THE BEST COMBINATIONS RIGHT AWAY:
1 With color
Although it is already born bicolor, the striped shirt of nautical inspiration lends itself well to be enriched by a detail in a strong color – yellow, red, orange, vere or even, why not, fuchsia!
2 Worn at the end of winter, as an anticipation of spring, or in autumn, left "peeking out" of warm and enveloping garments, such as soft cashmere sweaters and coats or heavy sweaters.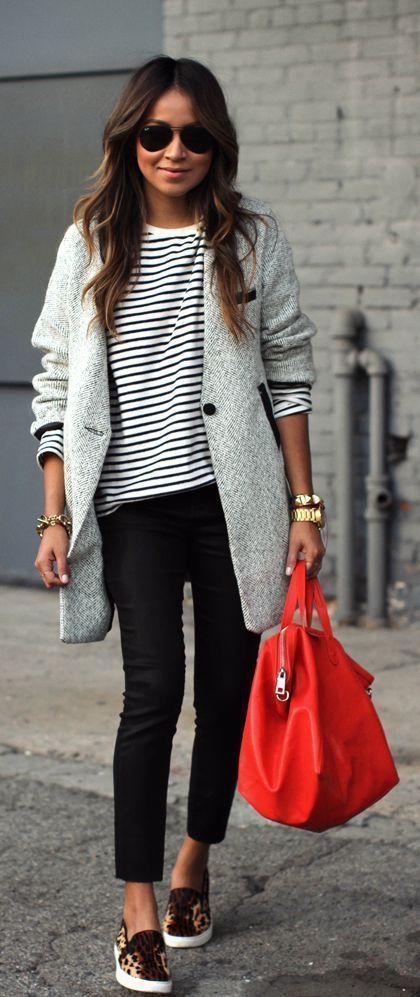 3 With other prints
Always meticulously dosed, the Breton striped sweater is well combined with fantasies such as leopard print, floral prints and some monograms, first of all that of Louis Vuitton.
4 Mix & Match
As a blue and white or black and white pattern, it can easily be used in conjunction with other prints in the same colors, including checks or polka dots.
5 In a simple chic outfit
Of course, the marinière is always perfect when paired with a pair of white jeans or pants or simple jeans.
Fancy creating great new combinations in minutes and sprucing up your wardrobe for spring?
6 Paired with edgy or even flashy garments and materials, such as leather studs, ripped jeans, lurex and sequins
As a classic with a slightly "French" touch, in fact, it lends itself well to this type of contrasts.
The legendary Inès here combines a striped top with sequins….
cMarinière and ripped jeans, a perfect match
7 Paired with sexier pieces, such as shorts and miniskirts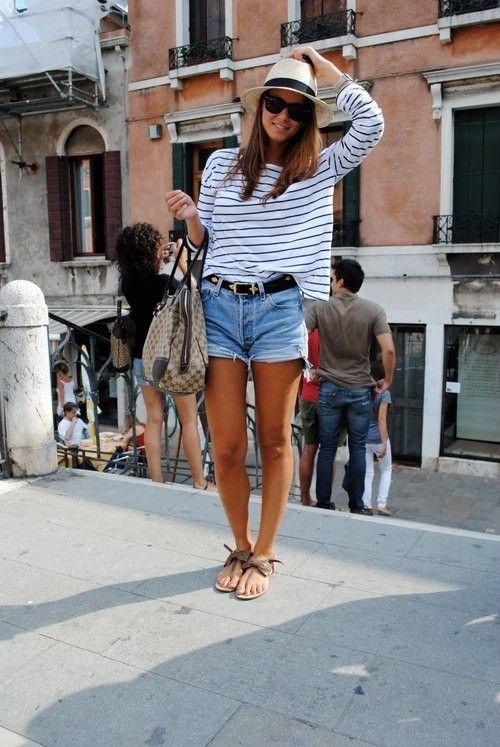 As is often the case with classic pieces in our wardrobe, they have a great power: that of toning down excess, making the look more balanced.
8 The Breton striped sweater that isn't one
Not everyone loves the classic long-sleeved striped sweater or shirt, but stripes are undoubtedly a pattern that suits (almost) everyone and also easy to match.
For this, there is a huge variety of alternatives, from the striped button-down shirt to a blouse of various styles to the simple short-sleeved T-shirt – the choice is yours!
In fact, to be honest, the Breton sweater doesn't even have to be white and blue or black and white. There are many variations – starting with the very pleasant and cheerful red-white option!
Among the famous women who wear the marinière at its best, we find the likes of Inès de la Fressange and the fabulous Jules of Sincerely Jules.
Finally, here you will find a nice and rich selection of striped sweaters:

How about you? Do you love striped sweaters? Do you wear them all year round? And how do you prefer to pair them? Share your thoughts!
P. S. If you like classics, watch also my video (turn on English subtitles):
Did you like this post? Share it on Pinterest!