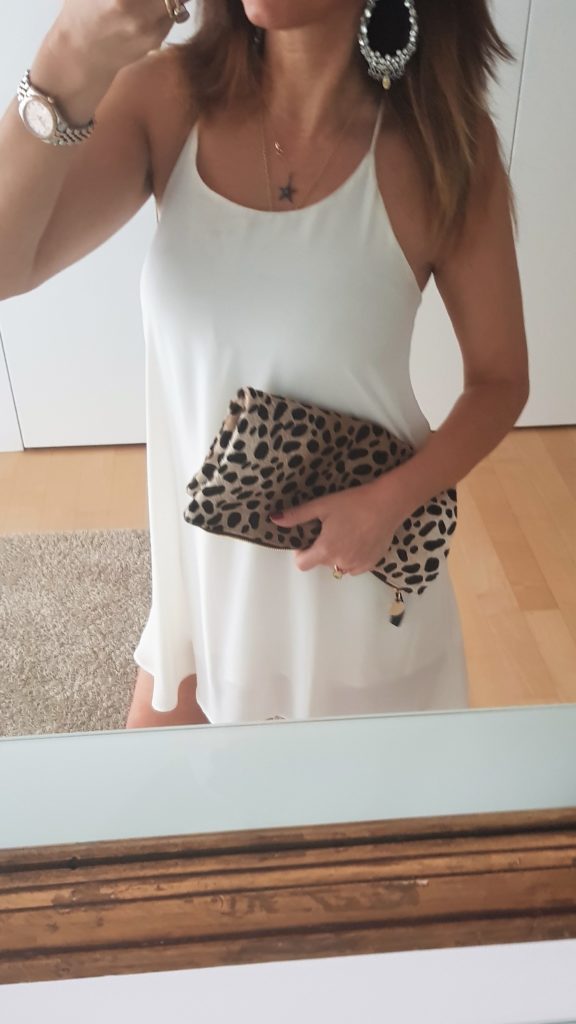 In recent days I have been very busy with the work and the hot-humid weather is really devastating for me (it is not so much the temperatures, but the humidity rate that make the climate unsustainable right now) and takes away my energy and my desire to take new outfit pictures. For this reason I have slowed down the publication of my looks of the day (or night) a little. Anyway, I wanted to show you this little white dress, declined in a simple but a bit unusual way, with a leopard clutch, to create a simple, but original summer date night outfit.  
A few nights ago, after a big storm that cooled the air a bit, I decided to make a little effort and wear something different from the usual for an outdoor dinner.  
THE WHITE SUMMER DRESS, A GREAT CLASSIC: EASY TO USE FOR MANY SUMMER DATE NIGHT OUTFITS…
In summer I have a real passion for white, and in particular for white summer dresses, (I even wrote an entire post about them!) I find them fresh and, above all, they are a great basic piece that lends itself to virtually any variation to create infinite fresh summer outfits also for the evening. Depending on the accessories and colors, in fact, a summer date night outfit based on a white dress can go from sporty to boho to elegant, from ultra minimalist and really simple to cheerful and romantic, and so on.  
Yesterday I decided to wear my little white summer dress, that is very simple in its shape and fabric, with only a single contrasting detail, this leopard print clutch by Claire Vivier.  
Sandals: Michael Michael Kors / Dress: Revolve / Clutch: Claire Vivier / Earrings: Dublos 
WHAT I'M WEARING
Little white dress, old, Revolve (similar HERE, HERE HERE and HERE)
Beige sandals by Michael Michael Kors via Yoox, old, similar  HERE and my favorite pair (these are really beautiful!) HERE
Clutch, Claire Vivier, old, similar HERE , HERE, HERE
Crystal Earrings, Dublos, similar HERE and HERE  
What about you? Do you wear white dresses in the summer? How do you prefer to accessorize them?
BUY THIS OUTFIT HERE:
[fetch ids="2063,2062,2061,2058,2057,2035″ type="columns-3″]
---
P.S. …
Do you speak Italian? 🙂 
If yes, have a look at my new Style and Wardrobe Management E-Course! It will show you step by step how to transform your wardrobe in a small luxury boutique and create many fantastic new outfits that suit you and your style!   
Want to declutter your wardrobe the right way and learn how to look expensive for less?
The Chic Factor, my bestselling book (in Italian only) about decluttering, style and shopping, is here!
P.S. :
Sign up now for free access to my media library, where you can find a collection of fashion, beauty, wellness and shopping guides (in Italian only, sorry)!
By registering you get exclusive and free access to 8 MINI GUIDES + all the material that will be published in the future!
Simply enter your first name and e-mail address and you will receive a weekly newsletter with the latest news. Of course, your data will remain absolutely anonymous and secure.