I'ts not always easy to write about style over 40. In fact, it can be a very controversial topic. Personally, I've always thought that a woman should feel free to dress as she wants and this regardless of age, but it's undoubtedly true that the more we grow as persons, the more we are aware of who we are and what image we want to present to the world, including our looks.
Fortunately, in an unspecified moment of this process, the possible complexes and false problems related to our body and our style often cease to exist or at least diminish and we tend to dress more and more for ourselves. Having said that, at least for me, dressing after 40 or 50 does not necessarily mean pretending that nothing has changed physically, but also mentally, because it is almost never true and it would be a bit like burying your head in the sand.
For this reason, labels such as "style over 40" or "fashion over 50" do not make me particularly worry,  because I do not consider them a kind of defeat when I look for new sources of inspiration fashionable. In any case, never before has the offer of brands and shops, especially online stores, that sell absolutely modern and contemporary clothes and accessories, but also able to adapt to the needs of women over 40, been so vast!
---
Personally, very often I find myself shopping with success and satisfaction especially for pieces such as these:

---
A beautiful Michelle Pfeiffer (all photos are from Pinterest)
I therefore thought that it might be interesting to talk more often about fashion over 40 here on the blog. Today I would like to introduce you to five women who are in my opinion true icons of style and who remain beautiful, elegant and fascinating even after reaching age 40 and 50.
EMMANUELLE ALT (51)
Emmanuelle Alt, born in 1967, was the director of Vogue Paris and is considered an icon of French style, classic and clean, but which incorporates trends and more sophisticated garments and this despite the age. Her style, typically Parisian, is made of simple, clean and elegant lines and neutral shades, but with a touch of rock.
The garments she prefers are blazers, T-shirts and jeans, which she sometimes combines with more gritty and particular touches.
The idea to copy:
1. Elevate a "Skinny + T-shirt" look with a nice blazer: it immediately looks so stylish!
2. Same look, but a different solution to make it special: a pair of high-heeled sandals or pumps that look special and fabulous!
HERE you can find a wide choice of T-shirts, of excellent quality. I always buy them on Asos, often in multiple packs. Asos and Amazon are great resources for gorgeous shoes and sandals, like THESE and THESE.
CAMERON DIAZ (45)
It has to be said that when a woman is so beautiful and has such a gorgeous physique she could easily be a fashion icon even in her twenties. But she, born in 1972, is still almost 48 years old, and she's very stylish. The actress's style is typically Californian chic, with a relaxed and casual vibe that underlines all her strong points.
In fact, Cameron knows how to dress to always look beautiful and sexy. Although she can afford to wear even a tiny microbikini, she knows the secret of simplicity to maximize her beauty.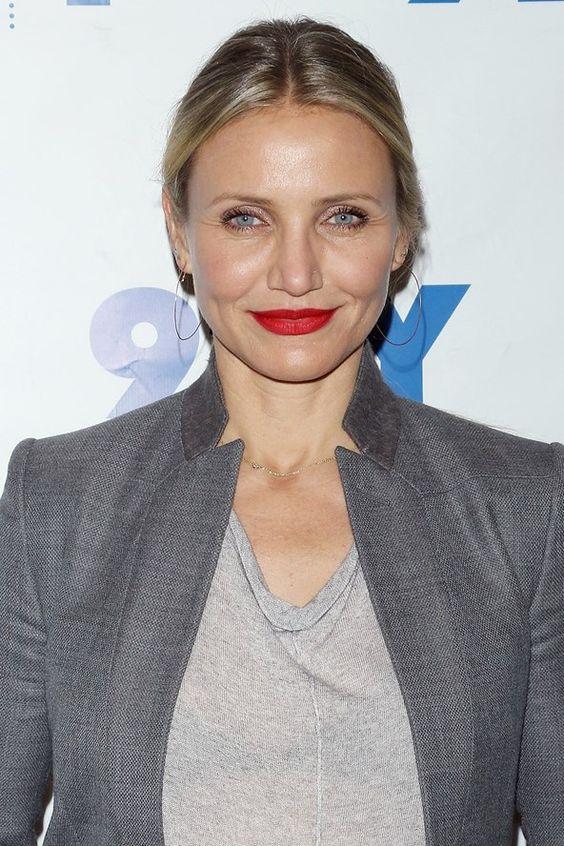 The idea to copy:
1. If you have beautiful curves, prefer monochromatic looks: they will enhance you to the maximum, slender and slim you in one fell swoop without ever making you look tacky.
And to highlight a monochromatic outfit and make it look original, it takes very little, as evidenced by its looks.
2. The loose, long hair that looks a little "wild": over 40, it usually makes a woman look much younger than a perfect mane, which often looks a little "old-fashioned".
3. The power of a bright lipstick: it's more difficult to wear than nude, but if you spot the right shade it takes years. Here you will find a selection of fantastic lipsticks.
INÈS DE LA FRESSANGE (61)
Born in 1957, Inès de la Fressange has been a world-renowned style icon for over thirty years. Former model, stylist, author of fashion bestsellers and "it girl", she also has the luck to preserve an androgynous and lean physique and to look many years younger than she is. The divine Inès is another role model for typically Parisian style, made up of clean and classic lines, neutral shades skilfully combined, but also touches of bright color here and there.
Inès de la Fressange is also a master in the all-French art of appearing vaguely "imperfect", with her "bed hair", her no-makeup make-up – a look that in reality requires time and great skill. Her favorite garments include a blazer, lots of trousers (even colored ones) and a men's shirt with its timeless elegance.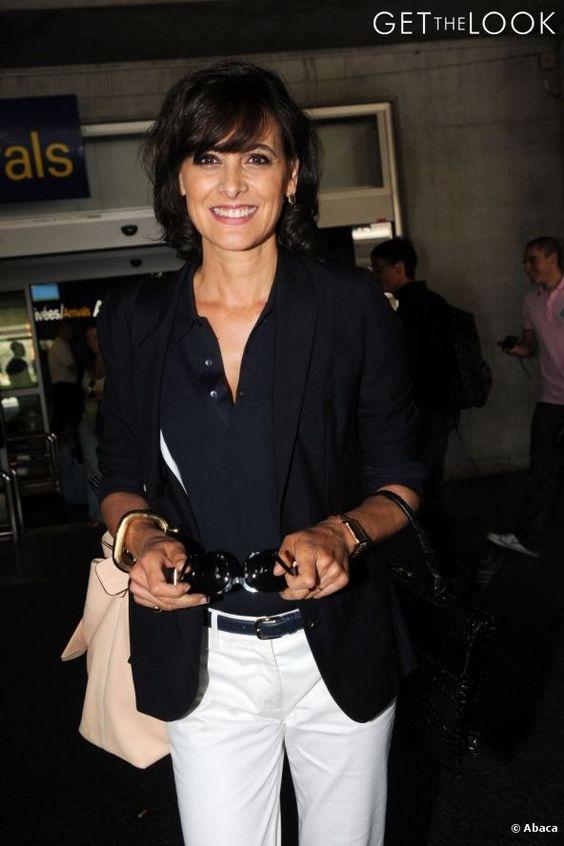 The idea to copy:
1. Use all the power of a good basic, especially if you dress like a glove.
2. Indulge in your love of neutral colors – and then, when no one is expecting it, surprise everyone wearing a single garment in a super bright color!
HERE you find a great selection of colorful jeans. As for the classic white or blue shirt, see also HERE!
SANDRA BULLOCK (53)
Although she doesn't generally appear in the top ten of the world-famous style icons, I love the style of this famous Hollywood actress and I find that, even physically, she is becoming more and more beautiful with age. One that ages well, in short.
I especially like her style for her ability to combine classic and modern pieces with causal garments and accessories with a distinctly Californian imprint, such as sneakers or a rock t-shirt.
The idea to copy:
1. Dressing according to the occasion: you don't need to dress up too much to go shopping or for other casual occasions. Also, a too sexy outfit, sometimes, make a woman look older.
2. Showing a little bit of skin, with class and elegance, makes it sexy at any age.
3. The monochromatic total look is always soaring and elegant, even in a strong color like cobalt blue.
CARINE ROITFELD (63)
I would like to conclude this roundup of fashion icons over 40 with the oldest of the group, which is also one of my favorite ever: Carine Roitfeld. Former director of Vogue Paris, muse of designers like Tom Ford and Riccardo Tisci, Carine Roitfeld has made her sophisticated style a real trademark. She is a bold example that you can really look gorgeous, beautiful and sexy even over 60!
In her wardrobe there are a lot of knee-length pencil skirts, which she wears with great class, but also silk blouses, lace dresses and impeccable blazers, mixed with classic accessories and leather trousers or animal clothes.  All muffled by a wide use of neutral shades such as black and gray and clean lines, with pops of color and metallic effects.
The idea to copy:
1. The pencil skirt looks good and is sexy and feminine at any age, just match it in a gritty way.
2. No need to give up a touch of rock or animal print after 40 (or even before). Just wear it with class and elegance, combining it with classic garments and neutral and chic tones. For a nice selection of sheath skirts see here.
And what are your personal thoughts about over 40 fashion and style?
P.S. …
In this carousel you find some of my favorite pieces for women over 40. Have a look at the items if you want to refresh your wardrobe and make it look classy and chic! 

Did you like this article? Share it on Social Media: