As we embrace the essence of over 40 style, let's embark on the perennial quest: What truly constitutes the wardrobe essentials for outfits tailored to 40-year-old women?
Before we delve into the topic, allow me to express my perspective clearly: I've always harbored reservations towards rigid fashion decalogues that aim to prescribe a one-size-fits-all approach for every woman's closet.
Fashion is deeply personal, and each woman should embrace her unique style, freely selecting clothing and accessories that resonate with her personality and preferences.
That being said, after engaging in numerous conversations with many of you via emails and Instagram/Facebook messages during my two years of blogging, I found myself reevaluating this perspective.
Fashion workhorses
I came to recognize that, for some of us, having a few "fashion workhorses" in our wardrobes can be remarkably beneficial. Even though I am not one to strictly adhere to lists and rules, I must admit, I am often intrigued by these fashion bucket lists. However, I always interpret them in my own way.
Hence, today, I'd like to present a succinct list of just seven key items that I believe can be highly useful in many of our wardrobes. I urge you to approach this list with the utmost freedom – cherry-picking the elements that resonate most with your individual taste and allure in every category!
So, without further ado, what are these seven wardrobe essentials that I believe can enhance the style of women over 40 and make their closets both functional and delightful?
Let's explore together!
1 – A BLACK DRESS
Among the most effortlessly stylish and adaptable options, the black sheath dresses steal the spotlight, gracefully extending to knee-length or just above/below it.
However, the beauty lies in personal preference: what truly matters is that these dresses reflect your individual style, accentuate your body's finest features, and showcase your unique personality.
In this selection, you'll discover a delightful array of classic and trendy Little Black Dresses (LBDs) to suit your taste and needs.
One absolute favorite of mine, perfect for parties and enchanting date nights, comes at an incredibly reasonable price.
Moreover, this fabulous dress also boasts a summer version, which I have personally added to my collection – a testament to its exceptional versatility!
If you're keen on investing in something truly extraordinary, I highly recommend exploring the offerings of this online shop. They have some truly special pieces worth considering.

2 – A LIGHT BLOUSE OR SHIRT
Consciously, I've used "light" instead of "white." After all, what constitutes our personal version of "white" can vary, embracing shades like ivory, beige, or even light taupe, depending on our unique colors and complexion.
From classic shirts to boho blouses, I genuinely adore them all. However, the crux lies in finding the ones that align with your individual style flawlessly or even daringly create a striking contrast with your customary looks, leading to the creation of truly fabulous outfits!
In this selection, you'll be delighted to explore an array of white shirts and blouses, each catering to different price points, ensuring you discover the perfect match for your taste and budget.
Here are some of my current favorite pieces:

---
Occasionally, even the most marvelous "workhorses" can lose their allure, especially after gracing our outfits numerous times. During such moments, it's a brilliant notion to inject a breath of fresh air into your looks and wardrobe!
3 – A PERFECT PAIR OF JEANS, A CORNERSTONE OF WOMEN'S STYLE OVER 40
Regrettably, I've encountered numerous women who believe that jeans no longer complement their physique.
However, nothing could be further from the truth: jeans are incredibly versatile and diverse, making it genuinely impossible not to discover a perfect match for each one of us!
These basics look great on women over 40:

Furthermore, the notion of a singular jeans trend for every season has long vanished. Fashion designers now bestow us with an abundance of distinct models with each new season, ensuring that we have a myriad of options to choose from!
4 – A FABULOUS BAG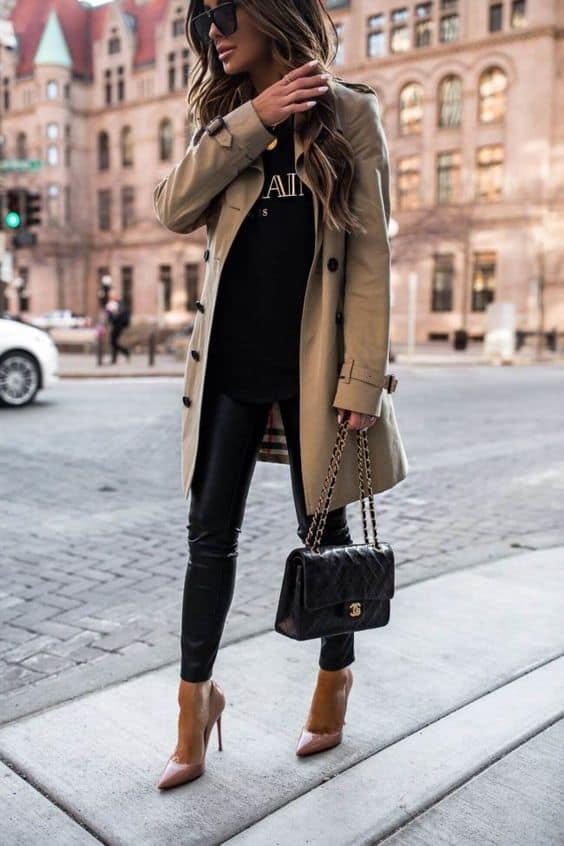 Once more, in this context, "fabulous" doesn't necessarily imply owning an expensive designer bag or a luxury piece.
In my view, what truly matters is having at least one bag in your collection that boasts excellent quality, exquisite leather, and impeccable craftsmanship.
Fabulous bags stand out effortlessly, not because of their price tag, but because they are truly stunning pieces that captivate our attention as women when we see them adorning another woman's ensemble.
They exude sheer beauty and elevate the entire outfit without needing any flashy logos.
In my opinion, investing in a beautiful bag, even if it's a modest splurge, is undoubtedly worth it.
5 – A JUMPSUIT
This wardrobe essential, ideal for women over 40 and even younger ones, was a recent discovery for me. Until a few years ago, I didn't even own a single jumpsuit.
However, after finally adding one to my collection, I realized the immense potential of this brilliant piece of clothing.
Firstly, the variety of jumpsuit models available in stores is astonishing. From alluring and chic to utterly sporty and casual, there's a perfect jumpsuit for every occasion, even for daytime wear.
Secondly, jumpsuits are remarkably easy to accessorize. With minimal additions, they effortlessly create a complete and fabulous look.
Thirdly, their appearance exudes a sense of modernity and freshness, often surpassing that of many dresses, particularly when dressed up for the evening.
The only key tip is to opt for a jumpsuit that accentuates the waist slightly, a useful rule regardless of age, not solely for women over 40 or 50, by the way.
6 – A REALLY PERFECT WINTER COAT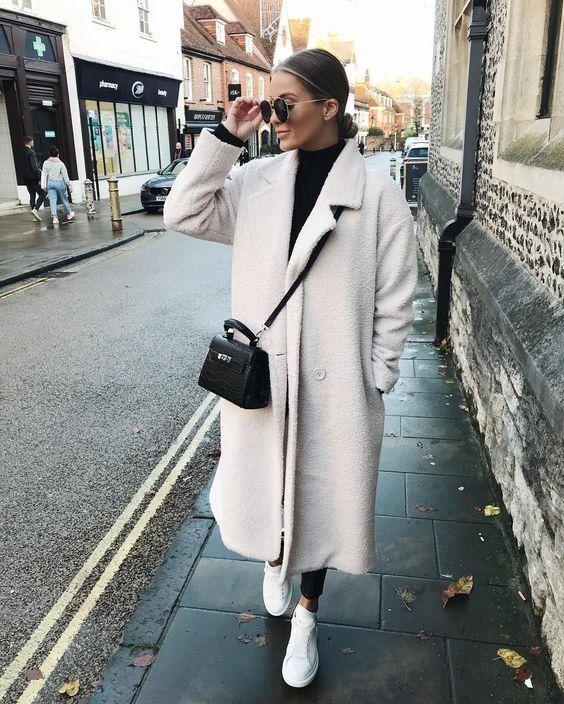 Caution: Gorgeous coats can be utterly addictive! Once you own one, you'll find yourself adding more and more to your winter collection every season.
There's truly no other piece of clothing that bestows such elegance to our winter ensembles and gracefully carries us through the chilliest months with such chicness.
SHOP MY OUTFITS!
Discover the ultimate fashion inspiration at my "Shop my outfits" blog page!
But where to buy a fabulous new coat without compromising on quality? Look no further:

Farfetch has the best choice of all

!
By the way: One of the most beautiful colors for autumn, if you like it and wear it, is camel: In this blog post you find a lot of great outfit ideas!
7 – A PAIR OF SUPER SEXY PUMPS
Absolutely, there may be moments when you won't don these special pieces every day. However, the instant you put them on, you'll feel a remarkable shift in your demeanor – a sense of allure, beauty, and femininity enveloping you.
Whether paired with simple skinny jeans for a casual yet chic vibe or matched with an elegant cocktail dress for a more formal affair, these pieces have a transformative power, elevating any outfit to a whole new level.
Consider those occasions when you have to dash from work to a sophisticated dinner. These items become your ultimate saviors, creating a seamless transition from office-appropriate to elegantly enchanting in the blink of an eye.
Discover My Amazon Favorites !
Dive into my Amazon selection and upgrade your shopping game!