Fashion enthusiasts know how a splendid leather jacket can take their style up a notch. Besides the classic black and brown jackets made of leather, there has been an upsurge in the colored leather jacket trend.
A green leather jacket, for instance, is a sure shot way to ace a voguish look.
Oozing with charm and versatile style, these green jackets are a wardrobe staple, waiting to be paired with countless outfit ideas.
Why Choose a Green Leather Jacket?
A green leather jacket is not just a simple piece of clothing. It's a whole statement, unleashing your sartorial prowess to the world. It is vibrant, eye pleasing, and irresistibly voguish.
Read on to know several ideas to style a green leather jacket with absolute flair.
Whether you opt for a casual one or a fancy, embellished one, Leather Skin Shop is the ultimate stop for exclusively designed green jackets made of high quality leather.
The Appeal of the Color Green
Why do the shades of green make us feel lively, fresh, and positive? The color green has always been linked to qualities such as renewal, energy, harmony, and growth.
As a fashion choice, it embodies confidence and evokes a sense of tranquility. This translates wonderfully in leather jackets, creating a unique blend of soft charm and edgy style.
Green has various shades, from mild pastel green, forest green, and emerald green to bright neon green. Subtle shades of green include olive and army green.
The choices are abundant, and you can get any of them in your preferred style from Leather Skin Shop's collection of green leather jackets.
What To Wear With A Green Leather Jacket?
Contrary to the common notion, not only black and brown jackets are versatile. Green jackets join the ranks by easily being paired with staples in neutral colors. They will look flawless with black and make a worthwhile combination with grey, white, and brown.
You can also try incorporating varying green shades to build women's green leather jacket outfits. Such as layering an olive jacket over a dark green sweater or wearing a bottle green jacket with a light green dress.
The magic of green leather jackets lies in their versatility. Dress them up for a sophisticated evening out, or wear them casually for a day about town. Green jacket outfits can work for any occasion, giving a vibrant twist to the typical outfits.
Styling Different Types of Green Leather Jackets
To ace the green leather jacket style, you can experiment with different styles and shades of green jackets. Here are some impeccable ways to build outfits with your type of leather jacket in green.
Women's Green Leather Bomber Jacket Outfit
With its boxy fit, cinched waist and cuffs, and ribbed collar, a women's green leather bomber jacket is well suited for your casual looks. Wearing a green bomber jacket casually with a white t-shirt and black skinny jeans is a great idea.
Or, you can layer it over a black cowl neck top and a blue plaid skirt for a fashionable look. Complete this outfit with black pumps.
Green Motorcycle Jacket Outfit
Create a look that appeals to all with a white cable knit turtleneck and navy jeans, and layer it with a cropped green moto jacket. Round off the look with white stilettos and a white shoulder bag.
You can also wear fringed suede pants in black with a black crop top and top it with your biker jacket to make a chic fashion statement.
Dark Green Leather Jacket Outfits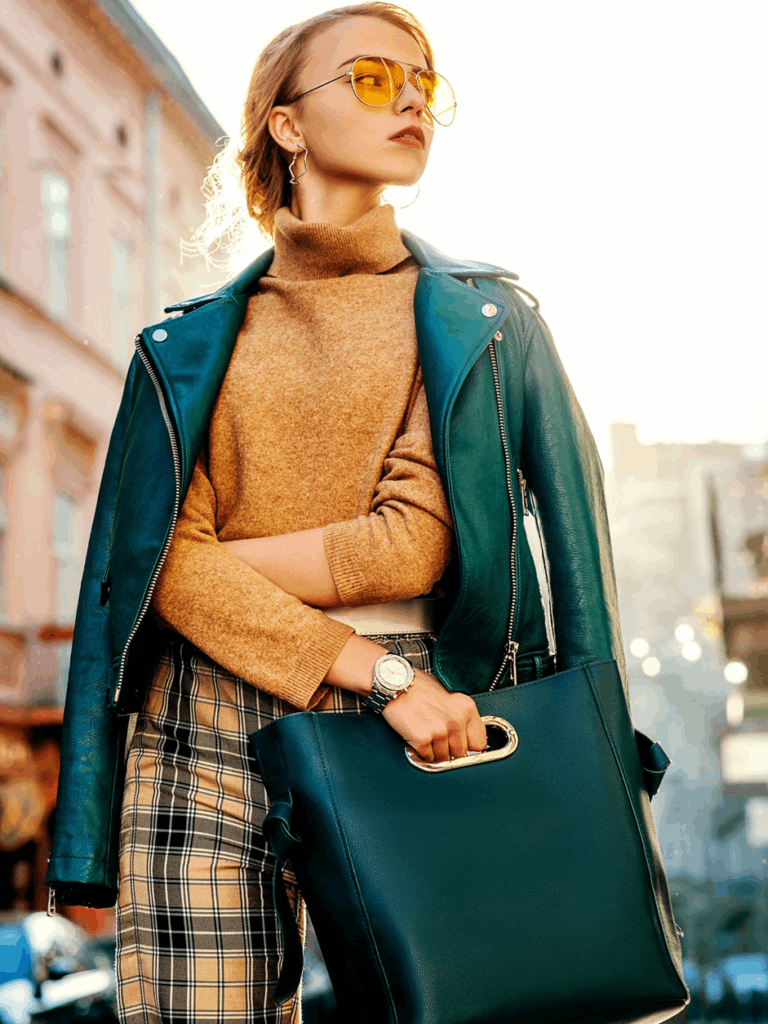 If you want to add absolute grace to your look, nothing can be better than a dark green jacket. Darker shades of green look nice with black and earthy tones, such as beige, coffee, or burnt sienna.
Build a dark green leather jacket outfit with a rust top with beige flare pants. Or, go casual by wearing a white t-shirt with grey distressed skinny jeans and layer it with your dark green blazer. Finish off the ensemble with black ankle boots.
Light Green Leather Jacket Outfit
Lighter hues of green can also be a great option when it comes to leather jackets. It can be your perfect layering option for spring and summer outfits.
Pair a white tiered blouse with tailored brown pants and wear a light green jacket over it. The outfit can be a head turning statement if you accessorize it with a beautiful statement necklace, a pair of sunglasses, and a brown mini bag.
Olive Green Leather Jacket Outfit
Got an olive leather jacket or considering buying one? An effortless way to style it is to wear it over a black sweater dress. Round off this look with black booties for a high fashion look. Another outfit with an olive jacket is a black pleated skirt worn with a dark green silk top.
Green Leather Jacket Outfit Ideas
Continuing our outfit suggestions, we will help you with how to wear a green leather jacket with different clothing options. Let the splendid jacket of yours bring up the style meter reading for you.
Pairing Green Leather Jacket with Denim
Jackets made of leather and pants made of denim-both are a match made in heaven. You have options for so many types of denim, such as trendy bootleg jeans, skinny jeans, flared jeans, or mom jeans. Each goes with a specific type of jacket to give you a flattering look.
Pair an olive leather jacket with white jeans for a fresh look on a spring day. Or, you can pair a cute denim skirt with frayed edges with an army green jacket to look stylish.
Green Leather Jacket and Dresses
Pairing a fashionable green jacket with dresses elevates your look, giving the outfit an edgy feel.
Try this fusion of femininity with edge by pairing a green yellow female leather jacket with dresses for your spring looks. We suggest going for a white and yellow floral print sundress.
If you want a sophisticated style, pair a little black dress with a cropped forest green blazer or a bolero jacket made of leather. Complete this look with black ankle strap heels.
Outfit With Green Skirt And Leather Jacket
Exploring different green leather jacket women's outfit ideas may mean fusing different shades of green to create trendy looks. Pair a green printed chiffon skirt with a black top and a green moto jacket to show your quirky fashion sense.
Avoid using green accessories and focus on black or brown ones to keep the look balanced.
Green Leather Jacket with Cowboy Boots
Want to style your outfit differently? Combine your green jacket with cowboy boots for a unique outfit. This green jacket outfit is a playful twist on Western style, all while maintaining a contemporary appeal.
We suggest wearing a brown fringed leather skirt, a cream ribbed top, and a sage leather jacket along with brown cowboy boots. Add some more Western flavor with a cowboy hat.
FAQs
What to Wear with a Green Leather Jacket?
A green leather jacket pairs well with almost anything in your wardrobe. For a casual look, consider pairing it with jeans and a t-shirt.
For a dressier occasion, pair it with a bodycon dress or tailored pants and a blouse. Matching your bag with the shoes, preferably black or brown, is a good idea to round off your outfits.
Can I Wear My Green Leather Jacket Year Round?
Yes! While leather jackets are perfect for fall and spring, you can also wear them in the summer and winter. Lighten up your summer nights with a light green jacket, or add warmth to your winter days with a dark green jacket.
Are Green Leather Jackets Suitable for All Ages?
Green jackets made of leather are versatile pieces that anyone can wear, regardless of age. Choosing jackets in the right sizes that reflect your personal style is the key to ace the look.
How To Style A Green Leather Jacket With Jumpsuits?
Olive, white, or black jumpsuits can look even more stylish if you layer them with a leather jacket in a complementing green shade. For a vivid look, layer an orange jumpsuit with an army green leather jacket for women.
Summing Up
When it comes to expressing your creative fashion, you can just take out your green leather jacket and style it in the ways suggested above.
The possibilities are unbounded when it comes to styling your green jacket. Whether you dress it up or down, wear it year round, or save it for special occasions, it's a garment that guarantees style and confidence.