When the postman rang the doorbell downstairs this morning, my heart beat a little faster – not because I'm no longer used to anyone ringing our doorbell because of the quarantine, but because I knew exactly what he was bringing me: my new Adidas Gazelle sneakers!
In these long weeks of a rather domestic life, in which I worked from my home office, but at the same time wanted to be prepared for the weekly bulk shopping and other practical tasks, I fell in love – with sneakers!
I wasn't always a sneaker woman: for many years I preferred slightly higher heels and used sneakers only for sports and leisure.
In recent years, however, this has changed dramatically and sneakers have become an integral part of many of my daily outfits – even for the office!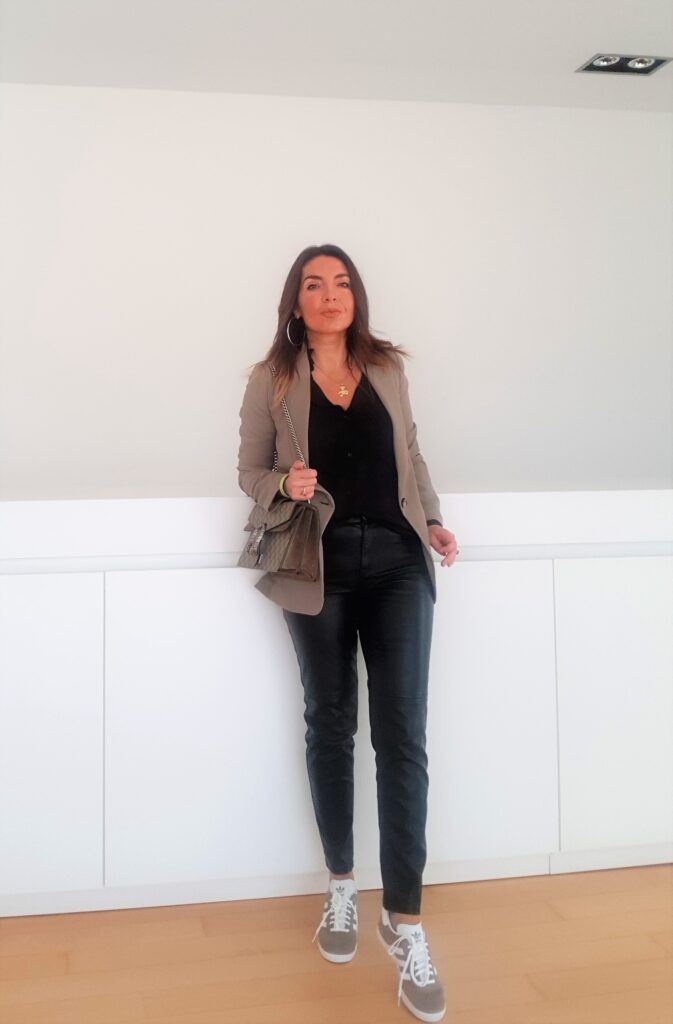 With a blazer in the same color and a classic outfit in neutral colors, my Adidas Gazelle sneakers are absolutely suitable for the office.
So I developed a tiny little sneaker addiction and, after buying a white, fashionable but rather neutral pair of sneakers last autumn, I wanted to expand my small sneaker collection a bit.
This time I wanted a model that was not only trendy but also somehow iconic. Stylish, with refined details, but also in a color that would match as many outfits as possible.
So I immediately decided on the timeless but currently absolutely trendy Adidas Gazelle sneakers in light grey, which had long been on my wish list.
The Adidas Gazelle has a very long success story
But the history of the Adidas Gazelle sneakers begins back in the 1960s, when the designers at Adidas created a leather shoe with a wavy sole and suede toe – with the aim of using it for the 1964 Olympic Games in Rome.
In 1966, the same design was updated and revised, and the Gazelle shoe became an instant success. Originally, the color of the shoe was intended to indicate its use: The blue model, for example, was intended for training; the red model was developed for handball instead.
In the nineties, however, the Adidas Gazelle sneakers became a true fashion phenomenon. Model Kate Moss was then often seen on pictures with her Adidas Gazelle sneakers, which she wore with practically everything; many more fashion icons were to follow her example.
In the 1990s, British rock bands like Oasis or Suede never appeared in public without a pair of Adidas Gazelle sneakers on their feet. Soon they became a real must-have and were worn by hip-hop bands and rappers.
Supermodel Helena Christensen even wore the gazelle completely naked, posing with black Gazelle sneakers on her feet.
The Gazelle Sneaker today: since 2016 back in fashion
In 2016, a new model of the legendary Gazelle was launched on the market, which was revised and redesigned by Adidas designers. It was a perfect remake of the original, but in new colors and with a new material mix.
What I find so brilliant about my Adidas Gazelle sneakers in taupe grey is that you can really wear them with anything. With leggings and skinny jeans or with a cool midi skirt, a classy camel hair coat as well as a denim jacket, and from morning to evening.
Hardly any other model is so versatile, I think.
Above all, it can be styled to be absolutely suitable for the office, but at the same time it is also very comfortable for leisure time and even at home, but also hip for occasions and events where you want to be casual but also cool.
By the way, the classic suede model with the three iconic stripes and the Adidas logo, which I wear in light taupe grey in these photos, is available in many other fantastic colors, from soft pink to dark red, from black to an unexpected turquoise.
The difficulty is probably more to limit yourself to a single pair of these trendy sneakers!
Because let's be honest: I like them so much that I already wish for another color…