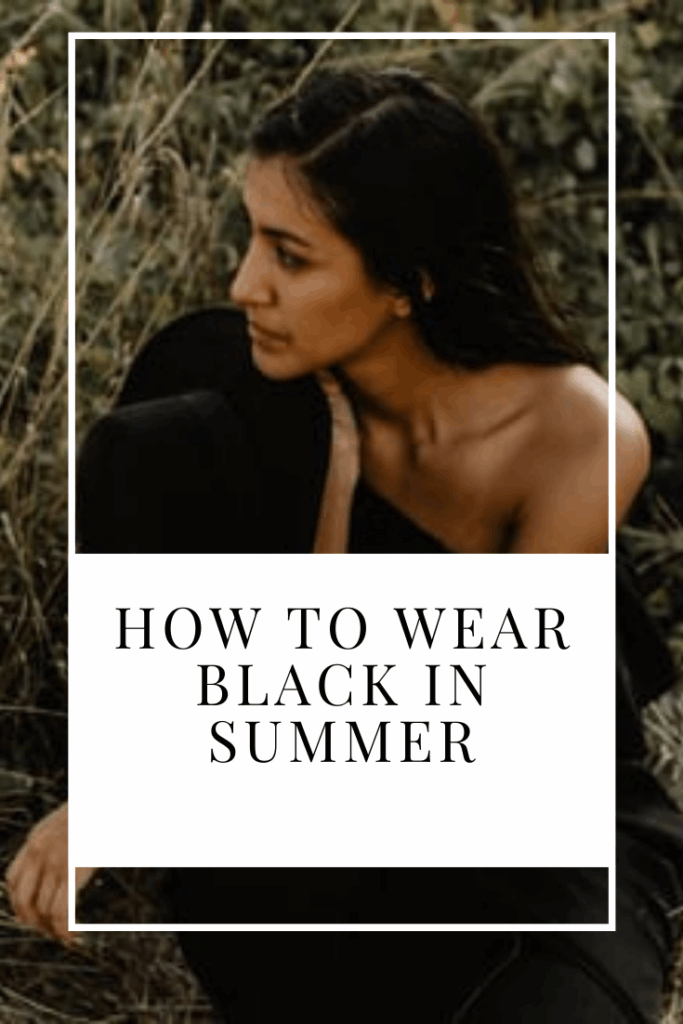 Today's post is all dedicated to a precise theme, based on a question coming from one of you readers: how to wear black in summer? And, above all, how to do it in order to make this beautiful color, the favorite, perhaps, of many of us, suitable even for the hottest season of the year?
Because let's face it: even for black lovers, summer is perhaps not the season when it is easier to wear it.
First of all, because it is hot outside, the days are long and generally very sunny. And black makes you feel much warmer than light colors, under the sun!
But there is also another reason: in summer, the sunlight changes, it becomes more vivid and softer and can make outfits based on black suddenly seem a bit sloppy and "wrong".
For this reason, today I want to provide you with 9 practical and useful tips, very easy to put into practice, on how to wear black in summer. And, above all, make each of our total black outfits (or at least based on that beautiful color that is black) simply fabulous !
Ready? Let's start!
1 – HOW TO WEAR BLACK IN THE SUMMER? PREFERABLY IN THE EVENING!
As we were saying, in summer the light changes: it becomes more intense, more lively, but also softer. That's why, if you love black and don't want to give it up even in summer, you should use it especially in the evening, after sunset, when the sun goes down and artificial lights make black look soft and natural, but also dramatic and perfect for a night out – an ideal color for long, sexy smmer nights!
2 – USE NATURAL FIBERS
If in other seasons some concession to synthetic fibers is certainly forgivable and sometimes even appropriate (for practicality reasons), in summer it is certainly better to privilege natural fibers. So we're off to cotton, linen, silk and viscose, which not only keep us cool even if we're dressed in black from head to toe, but also give black a softer and more casual look, absolutely suitable for summer!
3 – CHOOSE WIDER SILHOUETTES
Summer is also the season of freedom for those who love close-fitting lines. After all, we want to stay fresh, airy, but also comfortable al day long. So, yes to black, but preferably choosing wider, but still lines for our outfits.
4 – ALWAYS SHOW A LITTLE SKIN
An infallible trick to match black in summer so that it looks chic, but also suitable for the season and not too dark, is to show some skin. Choose your best assets and then… show them a little! A little wider necklines, bare legs, short sleeves or blouses and tops that leave the arms uncovered, everything is fine as long as you feel great! Your total black look will have a fresher and more summery air, even if you are not tanned at all.
5 – TRY BLACK IN PRINTS AND PATTERNS
And if total black seems really too dark on long summer days to you, try prints and patterns! Back in vogue in recent seasons, the floral prints, but also geometric, paisley, striped patterns lend themselves well to "break" the perhaps excessive rigidity of a black outfit in the summer.
Try for example a midi or maxi floral print dress with black background, or an airy blouse with Vichy checks, for example. If you don't know how to match black in summer, this is the easiest solution of all!
6 – TRY A BLACK OUTFIT PAIRED WITH A PAIR OF BLACK SUNGLASSES
An always chic and very cool combo: a pair of trendy black sunglasses with dark lenses combined with your total black look!
Incredibly cool, it is also very elegant and gives you a bit of mystery.
And if the black sunglasses simply don't look great on you, try a tortoiseshell frame and brown lenses: the effect will be slightly softer, but just as stylish!
7 – BLACK BECOMES SUMMERY WITH ACCESSORIES IN NATURAL MATERIALS, SUCH AS STRAW, RAW CANVAS OR RATTAN
Another ultra-simple and fast way to make a black-based outfit look summery is to combine it with materials that come from nature, such as straw or rattan bags, leather sandals, raw canvas bags and espadrilles in neutral colors, but also coral and turquoise necklaces and much more.
8 – COMBINE BLACK WITH OTHER NEUTRALS FOR A VERY SUMMERY "SAFARI" TOUCH.
Of course, the easiest way to match black in summer is to match it with other lighter colors, which make the outfit more summery and lively.
I really like combinations with other neutrals. My favorites include black & sand, black & khaki, black & cream, black & light gold or silver for the evening. Even a classic black & white can be nice, especially if you belong to a "cold" season. If you have a warmer color complexion, simply soften the whole outfit with some cream, beige or camel!
P. S. Do you speak Italian? Subscribe to my new YouTube Channel and watch these! <3