How to wear a Chanel inspired blazer, a great wardrobe classic that is also one of the biggest fashion trends this year?
So many people ask me how to style a Chanel inspired blazer this spring and summer.
The short answer is that there are 3 perfect ways to make the most of this classic of the female wardrobe:
1. Combine it with classic garments, such as elegant pants with a fluid line or a sheath dress;
2. Wear it in contrast, for example over a pair of washed jeans or a pair of leather or faux leather pants;
3. Wear it on a neutral, basic outfit, which makes the most of the blazer details such as buttons, contrasting color details and texture of the fabric itself.
Here you see some fresh Chanel inspired blazer designs for this season:

The Chanel ispired blazer can be found pretty much everywhere at the moment, in a thousand styles, versions and colors, so… if you want to add a Chanel inspired tweed blazer to your wardrobe, now is the time to do it!
In this article you find some other wardrobe classics to add to your beautiful wardrobe this year.
---
The original Chanel blazer was conceived back in 1954 by the wonderful Coco Chanel, who during one of her trips to Scotland discovered tweed, a fabric with a thousand virtues, and decided to use it in a feminine way, creating the now iconic "Chanel" blazer.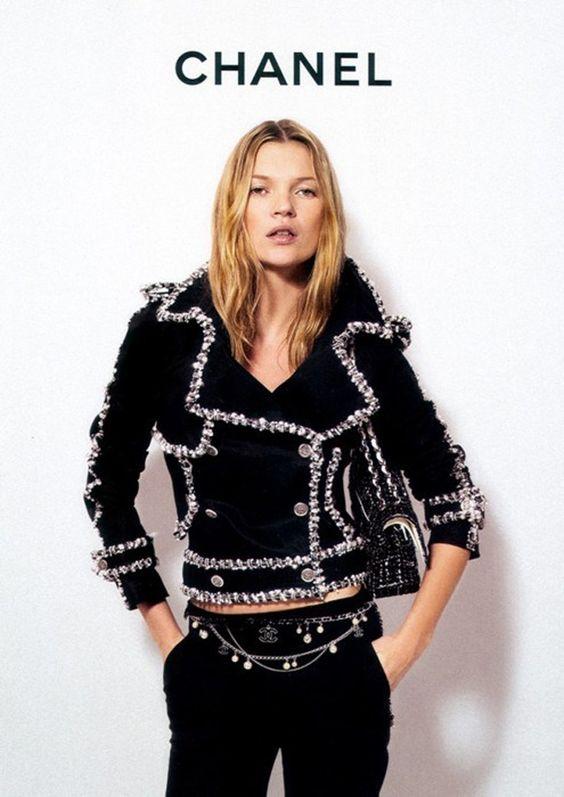 The classic Chanel blazer model – or at any rate any jacket inspired by it – is an item that is always handy to have in your closet.
Because it's a timeless blazer that never goes out of style, but especially because it's transformative and allows you to create many interesting outfits.
A classic Chanel blazer
The original model is short, without lapels or collar and with a straight line, almost boxy, but now in the shops you can find an infinite number of different models: long, very short or blazer style, square like the original or tailored and feminine, with or without lapels.
To unite the various models of Chanel-type blazers, the real peculiarity of this jacket: the fabric, which distinguishes it from all others.
Long style
But how to style a Chanel inspired blazer?
Of course, there is nothing wrong in combining it in a classic and elegant way, over a pair of suit pants or a pencil skirt, thus respecting the nature of this classy garment.
Since for me the "ladylike" looks have the unforgivable flaw of aging me by 15 years and of looking extraordinarily boring, I'm going to move right on to pairings that I find more modern, interesting and youthful!
Speaking first of all of combinations with pants, for me the ideal compendium consists mainly of:
slim or skinny jeans in washed or even ruined fabric
(faux) leather leggings or slim leather pants
with which the Chanel inspired blazer creates a beautiful contrast. Never as in the case of the classics, in fact, opposites attract. Precisely because it is a classic jacket and a bit austere, it is enough to combine it with smart and casual clothes to transform it, as these examples show:
But the Chanel blazer, much loved by celebrities, can also be combined in a not so boring way with dresses, short skirts and shorts…
As for the under-jacket, there are several possibilities to downplay and make the most of the Chanel inspired blazer:
a denim shirt
the classic button-down shirt, in white or light blue
a white, gray or black T-shirt, depending on the color of the blazer
a graphic T-shirt
try a gray sweatshirt, it will look great under a Chanel inspired blazer!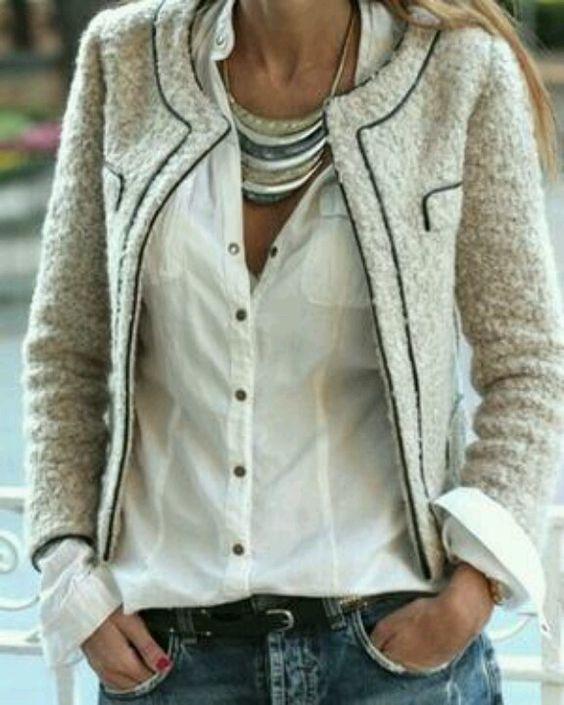 These are all options that dilute the somewhat austere nature of this model, resulting in a much more modern look.
How to accessorize a Chanel inspired blazer?
I almost never say this, but in this case it's really the case to indulge: green light to pearls (maybe not the classic size, but rather oversized), chains, brooches, multiple bracelets, statement necklaces in Svarowski crystals, but also hats and chain belts – in perfect "Coco style", which she would have surely appreciated!
Finally, other accessories that tie in perfectly with this type of jacket are small bags with a shoulder strap, preferably metallic, chain.

Again, Coco Chanel had been brilliant and forward-thinking and had figured it out early on, thus creating its iconic bags.
Here are some of the best option to purchase now:

WHERE TO FIND THE MOST BEAUTIFUL CHANEL INSPIRED JACKETS:
A brand that specializes in the genre and is also amazingly affordable is Urban Revivo. Discover the fantastic collection of Chanel inspired tweed blazers and Chanel inspired garments!
Find the best Chanel inspired tweed jackets directly on Amazon.
ASOS this season is offering many and all beautiful, such as THESE!
A delicate, soft and feminine model, HERE.
If you want to invest in an original model at a great price, ave a look at the incredible offer of vintage and semi-new garments that you can find HERE!
You'll fall in love!
Did you like this article on how to wear a Chanel inspired blazer? Save it on Pinterest:
Follow me also on YouTube: in this video you can find all the news of the season (turn subtitles on):
Spring wardrobe classics that are perfect for every chic woman: