How to wear a blazer in 2023? Possibly in a trendy and modern way, without detracting from the classic and timeless charm of this item of clothing that we all – or almost all – have in our closet?
I thought I'd inaugurate a series of posts dedicated to the classics – those timeless pieces that often make up the backbone of our wardrobe. I'm speaking of those pieces that appear in many "top 10 lists" of must-have items, that never really go out of style but, let's face it, sometimes also present the risk of looking overly traditional and aging, if paired poorly or chosen in less than flattering cuts.
A blazer is a timeless classic
Among these must-have classics, one of my favorites is undoubtedly a blazer – in navy blue, black, or otherwise in a neutral, easy-to-match color that makes it, indeed, a "classic."
I admit that I love a nice blazer with a modern cut even when paired very quietly – with simple skinny or cigarette pants, maybe cropped, a blue or white shirt and a nice pair of pumps – but in this post I would like to propose solutions to make this workhorse of many wardrobes cooler.
(All pictures are from Pinterest)
First, what makes a blazer more or less current and "young" is mainly the cut.
The blazer, for me, must fit right on the shoulders (even in oversized models), have a minimum of structure, possess a feminine and slightly flared cut and have sleeves that are fairly snug, but also comfortable.
Where to find blazers that are great value for money, but also trendy?

So, if you're lucky enough to already own a high quality blazer that you love in color and fabric, but don't wear because it's "dated", find a good seamstress and have it taken up at the shoulders, remove any padding and have the sleeves tightened – it will completely change personality!
That said, the ideal way to eliminate the "boredom factor" from this wardrobe classic is mainly one: pair it with edgier garments and accessories with a stronger personality!
The blazer, in fact, will tone down any excesses, while the more characterful pieces will match the blazer in an original and modern way, creating decidedly interesting outfits.
Some of my favorite pairings include these:
#1 How to wear a blazer in 2023? With (faux) leather, of course!

Here are some great options:

#2 With glittered, sequined and/or slightly low-cut tops, skinny and heels for an evening look

#3 With torn or washed jeans



Here are some great jeans options:

#4 On short skirts and shorts, if you wear them
#5 sovrapposto a una camicia di denim

#6 Over a graphic tee



#7 Over a slightly "worn" cotton T-shirt

#8 Over a sweatshirt or even a hoodie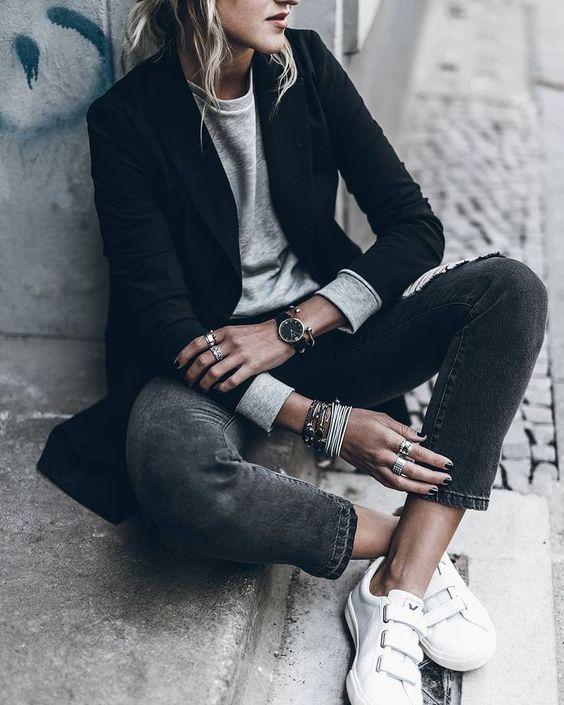 #9 Over little boho chic dresses

Shop some of my current favorites:

#10 In combination with impalpable lace blouses, with ruffles etc.
In this case the rigour of the blazer contrasts pleasantly with the soft character of the shirt or blouse.


#11 Combined with pashminas and scarves with a particular texture, ideally in the same color of the blazer


#12 In combination with statement jewelry

The other important aspect concerns the way a blazer is worn: as with all classics, in fact, its secret and potential all lie in the way it is matched, but also worn.
And to remove that hint of rigor from your blazer, just wear it open, maybe raise the lapels, pull up the sleeves or even tuck them in.
In short, just wear the blazer as if it were a shirt.

 

As always, I searched for a few photos on Pinterest of gritty, current pairings that use the blazer as the centerpiece. I hope you all enjoy!
Also, if you want to refresh your personal blazer collection, here you find some great options for 2023:

How about you? How do you wear a blazer in 2023

? Do you love them? 



P.S. … Are you looking for new ideas for outfits and combinations? Subscribe my YouTube channel (simply turn English subtitles on!)