How to style a white button-up shirt in a trendy and contemporary manner for this year?
In today's post, we delve into the epitome of versatile fashion—the white button-up shirt—and explore how it effortlessly complements feminine and timeless outfits.
Moreover, get ready to be inspired by the latest street style trends, as we present a plethora of fresh and innovative ideas. Keep on reading for a fashion-forward journey!
Discover My Amazon Favorites !
Dive into my Amazon selection and upgrade your shopping game!
The absolute protagonist, over a pair of ripped jeans, playfully peeking out from beneath a soft cashmere sweater, or beautifully harmonized with a loosely left open white button-up shirt.
With options to wear it strictly buttoned or nonchalantly rolled up at the sleeves, this timeless piece effortlessly complements any outfit.
If you opt for the long version, it can be elegantly worn as a tunic or a chic mini-dress, effortlessly paired with sneakers for a casual vibe or elevated with high heels for a touch of sophistication.
The white button-up shirt proves to be one of those evergreen classics that seamlessly fit every occasion, ensuring a stylish statement wherever you go.
These are some fresh and stylish seasonal designs that beautifully incorporate the white button-up shirt:

The white button up shirt can have a rigorous cut and tailoring or be enriched with details and special textures, or can be asymmetrical, oversized, extra long, and so on. The variety is almost infinite.
ONE WHITE BUTTON UP SHIRT AND LOTS OF OUTFITS….
A versatile white button-up shirt opens up a world of outfit possibilities.
Whether you choose to pair it with a cashmere sweater from your boyfriend or husband, knot it at the waist, layer it over a lace top, or use it as a jacket over a simple cotton tank top, the options are abundant.
This wardrobe essential stands the test of time, earning its name as a classic. Its ability to adapt to various styles makes it a contemporary and fashionable choice for any occasion.
SHOP MY OUTFITS!
Discover the ultimate fashion inspiration at my "Shop my outfits" blog page!
I personally own several and if I find one that catches my eye, I can't resist and purchase it. I've never regretted these purchases because they really are beautiful and look great with everything!
These beautiful white button-up shirts are currently on my wishlist:

---

In this post, I want to share my favorite pairings that not only suit specific occasions but also cater to an entire day, seamlessly transitioning from breakfast to your after-dinner plans.
Let's dive into these versatile combinations that effortlessly accompany you throughout the day, no matter the event or activity.
Paired with a classic black pant, maybe a little masculine or slightly cropped, short to the ankle or in a culotte version for an even more contemporary effect: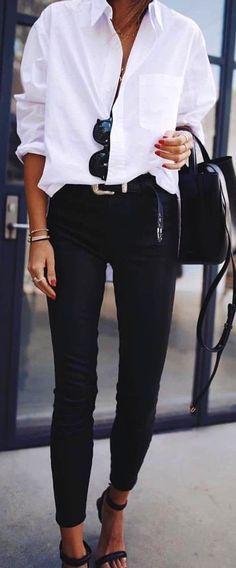 Take a look at this carousel showcasing some of the trendiest black pant styles for 2023:

When combined with vibrant colors and lively patterns, the white shirt transforms into a versatile "raw canvas" that effortlessly amplifies any design or hue.
Whether it's a colorful scarf adding a simple yet striking detail or a boldly colored pant or skirt, the white shirt acts as the perfect backdrop, allowing the patterns and hues to take center stage.
The beauty of this pairing lies in its adaptability, as you can easily switch up accessories or bottoms to create a myriad of eye-catching looks. From playful daytime outfits to chic evening ensembles, the white shirt's ability to complement and elevate colors and patterns makes it a true wardrobe staple for the fashion-forward.
Discover My Amazon Favorites !
Dive into my Amazon selection and upgrade your shopping game!
The white button up, in this case, is also useful for all women who (like me) do not always look good with bright patterns juxtaposed to the face, because it creates a nice detachment:
Colored jeans and white shirt: a summer classic
Under the folk shirt, the white button up best expresses its power to act as a "raw canvas"…
In my opinion, this is an amazing way to make the most of this fancy skirt, with a slight sixties vibe.
When paired with jeans, especially those with a stonewashed or distressed style, the white shirt effortlessly creates a delightful contrast.
Like the blazer and many other timeless classics, the inherent nature of the white shirt beautifully complements "lived-in" fabrics that exude a slightly worn charm.
This combination holds an enduring appeal and speaks for itself in its sheer perfection, wouldn't you agree?
Simple isn't easy… To know how to pair it, a white shirt stands out even in its utmost simplicity!
If you're on the hunt for an excellent pair of new jeans, take a look at my personal favorites:

When paired with edgier, rock-inspired pieces like leather leggings, biker jackets, and boots, the white shirt becomes a perfect match.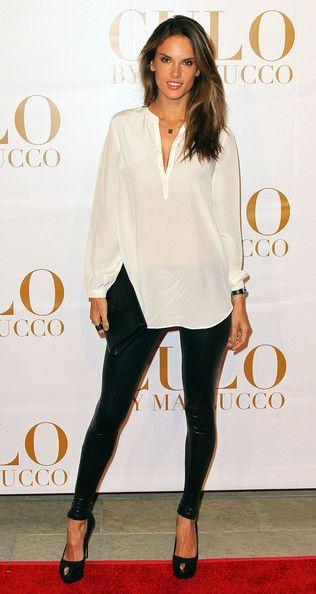 Worn here with liquid leggings, a somewhat "loud" piece nicely muted by a soft white shirt….
With shorts and short skirts if you wear them:
The classic, polished, and somewhat "bon ton" character of the white button-up shirt softens the overall effect, once again establishing a delightful and captivating contrast.
Here are some of my top picks for faux leather options:

For a total look, you can pair the white shirt with jeans or white/ecru pants, accentuating it with leather or even gold and silver accessories or details.
For a touch of timeless chic and a summery vibe, consider incorporating leopard print details into the ensemble. This versatile combination opens up endless possibilities, allowing you to create stylish and sophisticated outfits for any occasion.
The white shirt also works wonderfully in a fantastic safari-inspired look.
Combine it with hues like beige, sand, and khaki, and incorporate materials such as snake print and cotton canvas to achieve that adventurous and exotic vibe.
This safari-inspired ensemble exudes a sense of wild elegance and allows you to embrace a unique and captivating style that's perfect for outdoor adventures or urban escapades.
Here are some of my favorite white jeans and pants:


Using the white button-up shirt in your evening looks is a fabulous idea.
You can pair it with pants or a black mini or midi skirt, and accessorize it with jewelry, buckles, clutches, evening bags, and dress shoes to add a touch of elegance and sophistication.
With the wide array of white button-up shirt styles available, you have the freedom to experiment with various outfits. Opt for luxurious and precious materials, intricate details and textures, and unique fashion elements to create standout looks.
The beauty of white lies in its ability to complement and enhance ruffles, decorations, sleeves with special cuts, and unconventional collars, all while avoiding an overwhelming appearance.
For a chic evening look, here are some excellent handbag options that pair perfectly with a white button-up shirt:

Sometimes, the risk with matching outfits is that they can appear too obvious or resemble a work uniform. However, in my experience, this can be addressed by skillfully balancing the two colors and juxtaposing materials with varying textures.
One way to elevate the look is by pairing the white button-up shirt with a bright lipstick, especially a striking red shade, if it complements your complexion. This simple addition can add a touch of boldness and sophistication to the ensemble, instantly transforming it.
Another effective remedy is to swap the black outerwear, such as a tuxedo, blazer, or coat, with a white, light beige, or ecru alternative – essentially, going ton sur ton with the shirt.
This subtle change immediately modernizes the classic combination, making it more contemporary and fashion-forward.
By carefully considering color combinations and experimenting with different textures, you can effortlessly create stylish and up-to-date outfits, breaking away from the mundane and predictable, while still celebrating the timeless charm of the white button-up shirt.
Picture:
The blouse's line is maximally enhanced.
The shiny fabric and sandals make the look precious…
Once again, the white shirt fully embodies its raw canvas effect, and the wow effect is guaranteed!
These women are stunning with their gray hair and a touch of makeup.
Among the celebrities who truly know how to rock a white shirt, we have Inès de la Fressange, Giovanna Battaglia, Emmanuelle Alt, Olivia Palermo, and Julia Roberts.
If you're looking to update your collection with contemporary and high-quality designs, be sure to check out this roundup:

P.S. Learn all about great classics to have in your closet in this video – and subscribe to the blog's YouTube channel! (Simply turn on your English subtitles)
P. S. Find great button up shirts and other aweseome and stylish pieces on my Amazon Favorites page: