How to wear a white button down shirt in 2022, in a trendy and current way? Today's post is all about the queen of many wardrobes, the white button down shirt, and about the feminine and timeless outfits and combinations that you can create. But I also want to offer you a lot of inspiration ideas taken directly from the street style of the moment, so continue reading!
Absolute protagonist over a pair of ripped jeans, left loose to peek out from a soft cashmere sweater, strictly buttoned or with its sleeves messily rolled up. Or chosen in a long version, worn as a tunic or a mini-dress, with sneakers or high heels, the white button down shirt is one of those classics that really fit every occasion.
Here, for example, you can see some fresh seasonal designs right away:

The white button down shirt can have a rigorous cut and tailoring or be enriched with details and special textures, or can be asymmetrical, oversized, extra long, and so on. The variety is almost infinite.
A WHITE BUTTON DOWN SHIRT AND LOTS OF OUTFITS….
The white shirt, however, can be worn in many ways. Under a cashmere sweater stolen from your boyfriend or husband, knotted at the waist, over a lace top, or used as a jacket over a very basic cotton tank top.
In short, this wardrobe classic is really versatile and, like other garments that over time have earned this name, can be combined in many ways also very current.
I personally own several and if I find one that catches my eye, I can't resist and purchase it. I've never regretted these purchases because they really are beautiful and look great with everything!
These beautiful white button-down shirts are currently on my wishlist:

---
In this post I would like to talk about my favorite pairings, the ones that solve an occasion, but also an entire day, from breakfast to your after-dinner program.
Paired with a classic black pant, maybe a little masculine or slightly cropped, short to the ankle or in a culotte version for an even more contemporary effect: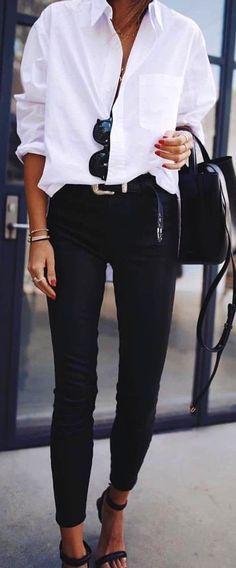 In this carousel you see some of the best 2022 black pants styles:

Combined with color and very colorful patterns: in this case, the white shirt becomes a kind of "raw canvas" that has the power to enhance any pattern and color – whether it's a simple detail, such as a scarf, or a colored pant or skirt.
The white button down, in this case, is also useful for all women who (like me) do not always look good with bright patterns juxtaposed to the face, because it creates a nice detachment:
Colored jeans and white shirt: a summer classic
Under the folk shirt, the white button down best expresses its power to act as a "raw canvas"…
In my opinion, this is an amazing way to make the most of this fancy skirt, with a slight sixties vibe.
Combined with jeans, even (but not only) those in a stonewashed, ruined style
As in the case of the blazer, but also of many other classics, the very nature of the white shirt creates a pleasant contrast with "lived-in" fabrics that look a bit worn. This combination is practically eternal and comments itself in its perfection, don't you think?
Simple isn't easy… a saperla abbinare, una camicia bianca spicca anche nella sua più assoluta semplicità!
And if you are looking for a great pair of new jeans, have a look at my personal favorites:

Paired with grittier, rockier garments and materials, such as leather leggings,
biker jackets

and boots, etc., it's a perfect match.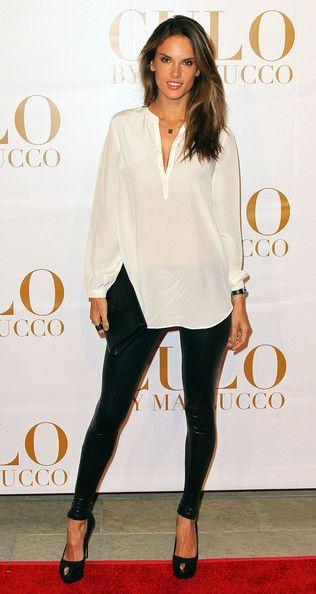 Worn here with liquid leggings, a somewhat "loud" piece nicely muted by a soft white shirt….
With shorts and short skirts if you wear them:
The classic, "neat" and somewhat "bon ton" character of the white button down shirt mitigates the effect, again creating a very pleasant and interesting contrast:
These are some of my favorite faux leather options:

In total look, combined with a pair of jeans or a pair of white or ecru pants, with leather or even gold, silver, accessories or details, but also paired with leopard print details for a summery and timelessly chic look…
… Or in a great safari look, combined with beige, sand, khaki and materials such as snake print, cotton canvas, etc..
Some of my favorite white jeans and pants:

Or use the white button down shirt in your evening looks, paired with pants or a black mini or midi skirt, and embellished with jewelry, buckles, clutches and evening bags, dress shoes, etc.
Given the huge variety of white button down shirts, it's nice to range with outfits to create with the white shirt, choosing brighter and more precious materials, richer details and textures, more particular fashions. White mitigates and enhances at the same time ruffles, decorations, sleeves with a particular cut, unusual collars, avoiding to make your outfit look "too much".
Here are, for example, some great handbag options to pair with a white button down shirt for a chic evening look:

Sometimes, however, the risk to be run is that the matching can be a bit obvious or look like a work uniform.
In my experience in these cases it's mostly a problem of dosing the two colors and juxtaposing materials with different textures.
There are remedies, however: a nice bright lipstick, if it suits you, preferably red. Or simply replace the black outerwear (tuxedo, blazer or coat) with a white, light beige or ecru one – in short, ton sur ton with the shirt. The transformation from a classic combination seen and overdone in something much more current is immediate!
La linea della blusa è valorizzata al massimo
Il tessuto lucido e i sandali rendono prezioso il look…
Again, the white shirt fully expresses its raw canvas effect and the wow effect is guaranteed!
With gray hair (and a little make-up): these women are stunning!
Among the celebrities who know how to wear a white shirt very well, Inès de la Fressange, Giovanna Battaglia, Emmanuelle Alt, Olivia Palermo, Julia Roberts.
If you want to refresh your collection with current, quality designs, check out this roundup:

P.S. Learn all about great classics to have in your closet in this video – and subscribe to the blog's YouTube channel! (Simply turn on your English subtitles)