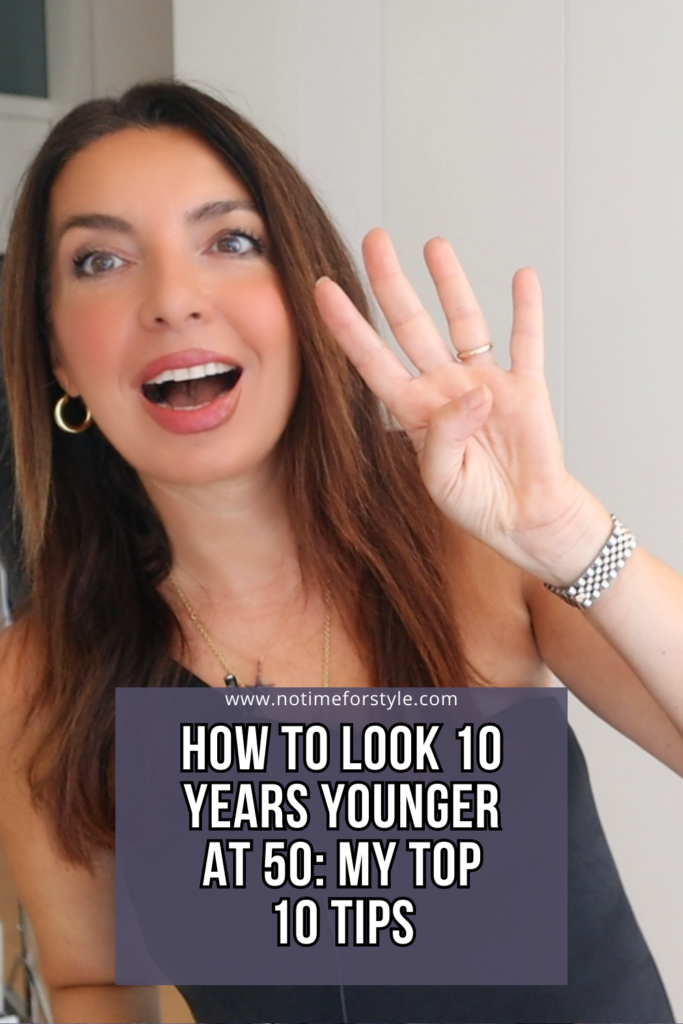 How to look 10 years younger at 50? I get these questions a lot, especially on Instagram and YouTube.
In fact, as a 55-year-old working woman, I have tested many different products and treatments over the years, eliminating those that were ineffective and carefully selecting those that proved effective. Another important point, for me, has always been safety of use.
But factors such as ease of use, convenience, and little time required are also important to us women over 50, who are often busy on so many fronts.
Therefore, today I would like to offer you the fruit of these years of experimentation.
So here are my personal "Top 10" products to look younger and look 10 years younger!
1 – Anti-wrinkle pillow
The anti-aging and anti-wrinkle pillow was originally sent to me as part of a YouTube collaboration. I've been using it for over a year now and can say that the effect is visible.
In addition, the pillow ensures proper posture and most importantly prevents your face from resting on the pillow, crumpling.
In short, an investment that costs the same as a luxury cream but lasts much longer, as well as being more effective.
A full review can be found here:
You can purchase it here. Use the discount code notimeforstyle10 to save 10%.
2 – A pair of comfortable and chic sneakers
Of the trendiest and most beautiful models and how to match them I have already spoken in this articole.
But sneakers actually have a powerful anti-aging effect as well: they actually stimulate us to walk much, much more than any other footwear.
If we want to show 10 years less, let's move more: a snappy physique takes away years if not decades. Also, motion oxygenates our skin keeping it young.
Here you will find some of the trendiest, but also most comfortable models of the moment, also recommended by experts:

3 – A retinol night cream
I've been using retinol-based night creams since just after age 40. If I went back, I'd start even earlier.
To me (and science confirms), retinol is an ingredient that literally transforms a woman's skin, truly keeping it younger in a single step.
Over the years I've been able to test so many products. I've weeded out the ones I thought were not very effective and kept only the best.
The ones I usually use in rotation are: Neutrogena's retinol night cream, complete and economical. It is very rich in hyaluronic acid and also suitable for ultra sensitive skin.
n addition, twice a week I use Differin Gel, made with the powerful ingredient adapalene, an over-the-counter product but equivalent in effectiveness to prescription products. It is also a fantastic anti-acne product.
If you want a slightly more expensive, but fabulous product, I highly recommend Murad's retinol line. It really is the top and a complete treatment, very effective without causing irritation.
4 – A great sunscreen
Protecting your skin from the sun's rays has become a must. It is important for both skin health and preventing skin cancer, but also to prevent wrinkles.
I go with tradition here and use a bestseller of the highest quality. It's non-greasy and doesn't weigh down your skin, and you can apply your makeup normally right after. It is the Anthelios SPF 50+ di La Roche Posay cream, really the top among sunscreen products.
5 and 6 – CurrentBody LED Masks and the NuFace Mini
For about two years now, thanks to collaborative relationships with some world-renowned online stores of beauty products, I have been lucky enough to personally test many anti-aging devices.
But I want to tell you the truth: some are not very effective. Others give some results, but are extremely complicated to use.
So, after years of testing and experimenting, today I use only the best:
the two CurrentBody LED masks, the one for the face and the one for neck and décolleté.
LED technology is not only safe, but its effectiveness is proven by many scientific texts. It stimulates the production of collagen and elastin and counteracts many aesthetic problems, such as age spots and acne rosacea.
There are many cheap LED masks for sale that are worthless. They simply don't use the right type of LED light to be effective.
CurrentBody is one of the very few brands whose masks are truly effective. They are in fact used by so many red carpet celebrities , like Julia Roberts and Victoria Beckham.
WHERE TO BUY THEM WITH A DISCOUNT:
The other device I use regularly for its effectiveness is the NuFace Mini.
This is a micro-current facial massager that tones the muscles of the face, smoothing out the features and also smoothing out any wrinkles.
It really is powerful and effective! You can compare it to a gym for your face. It sculpts your cheekbones and jawline and "lifts" everything else. I can't get enough of it.
WHERE TO FIND NuFace Mini with a discount
7 – Water
Water is the basis of life and also of our youth.
Drinking a lot every day, at least 2 liters, rehydrates us from the inside, stimulates the metabolism keeping us toned and slim and prevents the skin from wrinkling.
For many women myself included, drinking a lot is difficult. We forget, we don't feel the thirst urge, and the damage is done.
Let's make it our goal to drink at least two liters of water a day (natural herbal teas also count, such as my personal favorite, but not tea and coffee). Personally, this water bottle helps me a lot. It seems like a small change but for me it was the turning point!
8 – Age appropriate makeup
Owning makeup products that are appropriate for the needs of us women over 50 (but also over 40) is crucial.
Many products suitable for 20-somethings, when used after 35-40, actually risk making us look older.
This is because they have formulations and textures that tend to settle into the small marks and actual wrinkles, unnecessarily magnifying the problem.
Therefore, it is essential to find truly effective over-50 makeup products. These products often combine the textures best suited to our skin with real anti-aging properties.
Recently I discovered the makeup line by Bobbi Brown, a fantastic over 50 makeup artist and entrepreneur, and I haven't left it since.
Of all of them, a truly must-have product is Bobbi Brown's anti-aging face base.
It is both cream and face primer, ideal before makeup. You can find it here (21% discount with CRISTINALF).
9 – A great self-tanner
IThe days of wild tans and orange-tinted faces are just a distant memory.
The latest self-tanning products, in fact, give a luminous and slightly amber complexion to our skin. They make us look younger, toned and fitter. Often, they in turn contain anti-aging ingredients that keep us looking young.
I have tried so many over time and would like to recommend the ones I think are best for our age group:
THE BEST SELF-TANNING PRODUCTS:
10 – A great exfoliating product
Exfoliating the skin is a gesture of health and beauty at any age.
After the age of 40, however, it becomes even essential if we want to show 10 years less.
Not only that, but it is important to exfoliate the skin daily, to stimulate cell renewal, collagen and elastin production and give it a more toned and compact appearance.
THE MOST SUITABLE EXFOLIANTS FOR SKINS OVER 40/50
I hope this article on how to prove 1 years younger was helpful to you!
Remember that to look younger, in addition to the invaluable allies I mentioned in this article, other factors are also important.
A young and fresh style in dressing for example, but above all a curious and open minded attitude. Learning new things every day, taking an interest in others and helping them, are really important things to keep you looking young and attractive for as long as possible!
Finally, here are some questions I get very often from my readers and YouTube followers:
How can I make my 50-year-old skin look younger?
To make your 50-year-old skin look younger, consider the following tips:
Maintain a consistent skincare routine that includes cleansing, exfoliating, moisturizing, and sun protection.
Look for skincare products with ingredients like retinoids, vitamin C, hyaluronic acid, and peptides, which can promote collagen production and reduce the appearance of fine lines and wrinkles.
Stay hydrated by drinking plenty of water throughout the day.
Adopt a balanced diet rich in antioxidants, vitamins, and minerals to support skin health.
Avoid excessive sun exposure and always wear sunscreen to protect your skin from harmful UV rays.
Consider consulting a dermatologist for personalized advice and possible treatments like chemical peels or laser therapy.
How can I look 10 years younger fast?
While it's not possible to reverse aging overnight, you can take steps to achieve a more youthful appearance quickly:
Get a new hairstyle or haircut that flatters your face and complements your features.
Use makeup techniques to enhance your natural beauty, such as applying foundation, concealer, and blush strategically.
Focus on improving your posture, as standing tall can make you appear more youthful and confident.
Invest in well-fitted clothing that is modern and suits your personal style.
Prioritize proper skincare, including hydration, sun protection, and using makeup to highlight your best features.
You can also choose non-invasive procedures, such as mesotherapy (a treatment that uses a personalized cocktail of vitamins, minerals, and antioxidants) for skin rejuvenation.
What makes a woman look 10 years younger?
Several factors can contribute to a woman looking 10 years younger:
Consistent skincare routine: Regularly cleanse, moisturize, and protect your skin from the sun's harmful rays.
Healthy lifestyle: Maintain a balanced diet, exercise regularly, get enough sleep, and manage stress effectively.
Hydration: Keep your body and skin well-hydrated by drinking enough water throughout the day.
Avoid smoking and excessive alcohol consumption, as these habits can accelerate skin aging.
Confidence and positivity: Embrace a positive outlook and be confident in yourself, as these traits can radiate youthfulness.
How can I make my skin look 10 years younger?
To make your skin look 10 years younger, follow these tips:
Cleanse your face twice daily and exfoliate regularly to remove dead skin cells and promote cell turnover.
Use skincare products with anti-aging ingredients like retinoids, vitamin C, and peptides.
Moisturize daily to maintain skin hydration and elasticity.
Wear sunscreen with an SPF of at least 30 to protect your skin from UV damage.
Consider incorporating facial massages or facial yoga exercises to improve blood circulation and tone facial muscles.
Stay hydrated by drinking enough water and maintaining a healthy diet rich in antioxidants.
Remember, achieving younger-looking skin is a combination of good skincare habits, a healthy lifestyle, and a positive mindset.
If you want a full review of all the products, check out this video (in Italian, simply turn your subtitles on):