Among the questions about the best designer handbags I receive most often, many are about Gucci bags.
Gucci is undoubtedly one of the world's most beloved and sought-after luxury fashion brands. The company produces luxury handbags, clothing, shoes and accessories that are sold all over the globe.
Some of Gucci's handbag designs have become cult classics, iconic handbags famous around the world for their unmistakable style. If you're a fan of Gucci handbags, you can't miss this post!
What to buy from Gucci, and which are the most iconic Gucci bags?
Gucci is an iconic luxury brand that produces high fashion items. In recent years, therefore, many women have begun to consider buying Gucci bags as a lasting investment rather than simply buying yet another designer bag.
There are, in fact, some Gucci purses that are much more iconic than others. Their purchase can be considered, therefore, as a real investment – in our own style, but also long term, as their price will easily tend to appreciate over time.
Here are the five Gucci handbags to buy now:
The Gucci Dionysus is a bag that has been very successful in recent years. It has many features that make this purse special, including top-notch design and finishes. In addition, it is perfect for wearing on any occasion. If you are looking for a luxury handbag to purchase, I recommend you consider this model!
You can also find my video review of the Dionysus here (in Italian, simply turn on subtitles):
The Gucci Diana, the tote with bamboo handle, was first presented by the House in 1991.
Reflecting the narrative of development and reinvention that characterizes Gucci's designs, the bag has been reimagined by Alessandro Michele in three different sizes, with removable straps in neon colored leather – a tribute to the functional straps that once came with the original bag to maintain the shape of the handles.
In the 1990s, Princess Diana – the unforgettable Lady D – became a style icon and this bag was her favorite.
Diana became increasingly daring in her fashion choices as she distanced herself from the royal family. Whenever she fled the palace and was forced to face the paparazzi in bike shorts and baggy sweaters, this bag completed her outfits.
Today the bag celebrates its comeback, slightly updated but almost unchanged, ready to become a great classic.
Among the Gucci handbags that have become great classics over time, the Jackie is undoubtedly an evergreen. It starts with the name, soft then hard, which echoes the thousand textures of the bag itself, the stiff leather with imperceptible stitching, the hard golden buckle that made it popular. And then its godmother, the same one who gave it its name, Jacqueline Kennedy.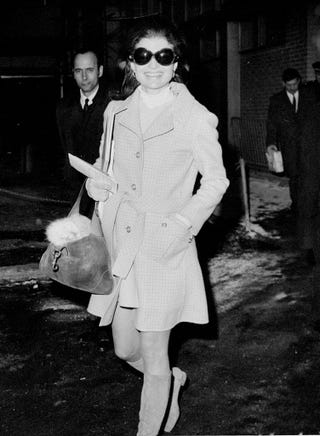 The story of Gucci's Jackie bag is not just the story of a handbag. First introduced in 1961, with its curved shape and metal clasp, it quickly became an essential accessory, popular with the jet set of the 1960s and 1970s.
On any given day, it was she, Jackie Kennedy, who was immortalized with the Jackie under her arm. Jacqueline Kennedy, America's first lady, designer muse and lover of fine clothes and jewelry, fell so in love with this Gucci handbag that she became its muse.
Even today, it remains a gorgeous, comfortable and roomy bag that is hard to find a fault with. Definitely a designer bag worth investing in!
The Soho Disco, with its central logo, shoulder strap and swinging tassel, marks Gucci's entry into the world of entry-level yet still incredibly chic handbags. The silhouette is shaped to rest comfortably on your hip. It's incredibly roomy, making it as suitable for work as it is for a night out. The Soho Disco remains one of Gucci's most popular bags even today.
You can find a full review of this Gucci bag here (it's in Italian, simply turn up subtitles):
Where to find the most iconic Gucci handbags at the best price:

Where to Find the Best Vintage Gucci Bags
Are you thinking of purchasing a vintage Gucci bag? If so, you're in luck!
In fact, there are some options, especially online, where you can find a wide selection of authentic vintage Gucci handbags, in excellent condition and with all the guarantees.
Check this out and feast your eyes – better yet, buy one of the gorgeous vintage Gucci handbags for sale, because I can guarantee you that the best ones disappear quickly.
Gucci Bag Sale
When it comes to designer handbags, there is no doubt that Gucci is one of the biggest names in the luxury industry. But with prices that can often be prohibitive, not everyone can afford to purchase one of the iconic Gucci bags I've introduced you to.
So, where can you look to find discounted Gucci handbags?
One possibility are the outlets, which can be found all over the world. The drawback is that you're unlikely to find any iconic Gucci designer handbags, especially if you wisely look for them in classic colors and versions.
In fact, they are the ones that sell best and I can already tell you that you will (almost) never find them in any Gucci outlet store.
A more promising alternative in my opinion is to look for it on a third part Gucci retailer shop, which may offer attractive discount codes throughout the year – for example on Black Friday, but also at other times of the year.
My favorites are Farfetch or Breuninger, a very reliable German site that often has discount code. Also Luisaviaroma often offers welcome codes or other types of discounts.
What are the best Gucci Crossbody Handbags?
If you are looking for a bag that is both stylish and practical, a Gucci shoulder bag is just what you need. They come in a variety of different styles, so you are sure to find one that suits your personal taste.
They are also made from high quality materials, so they will last for years to come. Moreover, Gucci shoulder bags are quite affordable compared to other models and go with everything.
So, if you are looking for a new bag to complete your wardrobe, consider investing in a Gucci shoulder bag. You won't regret it.
Among the models of Gucci handbags that I recommend you to buy, in addition to the already mentioned Gucci Soho Disco, I particularly love the Gucci Small Marmont, which I own in 2 different colors.
A new entry that in my opinion has the makings of a great classic is definitely the Ophidia GG small (which is actually quite capacious), with an interesting price range of around $1000/under 1000 euros .
What are the best Gucci Crossbody Men's Bags?
Without taking anything away from the Gucci women's handbags, the men's section is no less. In fact, there are a few Gucci handbag options dedicated specifically to him in which to invest in 2022 for the latest fashionable masculine look. Don't believe it? Check this out!
In addition to numerous shoulder bags, in this section you will also find Gucci fanny packs, backpacks and work bags for men.
What is the best black Gucci bag to invest in?
When we talk about black bags, the best designer bags to invest in are, in my opinion, those whose design and features stand out the most in the black version.
This is certainly the case with the Gucci Marmont bag or even the beautiful and iconic Gucci 1955 Horsebit bag chat Iown right in black.
Find my full review here (in Italian, turn on subtitles):
Another great classic: the Gucci belt
Do you love the brand and want to add something extra to your beloved Gucci bags?
There are plenty of reasons to buy a Gucci belt. They're stylish, they last a long time, and they always look chic.
A Gucci belt can make any outfit look more polished and elegant, whether on a woman or a man. So, if you are looking for a new accessory to add to your wardrobe, consider investing in a Gucci belt. Or give one as a gift, you'll make the recipient happy.
The most iconic classic and current style is definitely this one.
Which are the best Gucci bags to buy then?
With so many Gucci bags to choose from in 2022, it can be hard to decide which one is right for you.
That's why, with this article, I tried to make a nice selection and, as a fan and connoisseur of handbags, to suggest you the designer handbags to buy now and enjoy for a long time.
Of course, it's just as important to understand what kind of bag you use most often and what our budget is.
But whatever your choice, Gucci handbags are timeless classics that will never go out of style and can be passed down from generation to generation for years to come.
Ready to treat yourself to a bit of luxury?
Here is a roundup of Gucci's most iconic 2022 bags:

CODICI SCONTO PER RISPARMIARE €€
Alla pagina "Sconti & Coupon" trovi tantissimi sconti validi sempre per risparmiare sul tuo shopping: