Finding the right Christmas outfits is never easy, because we would like to be original, but there are also traditions, like the one that suggests you should wear something red for example, that sometimes we think we have to respect.
So how to dress so for the holidays?
In my opinion, the ideal thing is to find one or more outfits (depending on your commitments, the people you celebrate with, the context etc.) that play with these traditions but still make you feel authentic. In short, to find outfit solutions that are trendy, but also practical and cool.
Shop my Holiday Favorites here:

To dress well at Christmas, there is no need to spend a lot of money, in fact: probably our wardrobe already contains excellent basic pieces which can possibly be integrated with some targeted purchases.
You just have to make the right combinations and give your outfit a festive touch so that it will be perfect for this special time of the year.
If your family tradition focuses primarily on the Christmas Eve dinner, go with a sparkling look, but without any exaggeration. If you are the hostess for the occasion, it is useful to think of something practical, as well as chic.
But if the real Christmas event for you is the 25th of December lunch, the most suitable outfit will be simple and chic, a style that usually everyone likes, older relatives included 🙂 .
Having made this general premise, certainly useful but a little conventional, I would like to add one thing. I don't know about you, but at Christmas Eve I'm regularly on the verge of a nervous breakdown: I usually work until the last second and I still have to wrap (if not even buy!) the last of about 26 different Christmas gifts I have to buy every year.
Also, in the last few years I took charge of the organization of the Christmas Eve family dinner – and I assure you that I'm not exactly a domestic goddess, even if I do it willingly.
In short, the time to think about what the hell to wear at Christmas is probably the last of a long series of about 24'792 different and equally stressful thoughts.
Looking for great last-minute Christmas gifts ?
Here you will find many great gift ideas for the whole family and for your friends!
For this, and also because I have already received the first questions about it from a couple of readers, I thought it could be useful to write this "What to Wear at Christmas" guide: as a sort of self-help guide for me and also, I hope, because it could be useful to you too!
Here are some combinations that, as shown by these pictures, are easy to realize and give you an elegant look, but are also practical and not too complicated. So that we can focus on what really matters: to be in the company of our loved ones.
VELVET
Like last season, this year velvet is still super trendy and it is certainly very suitable for Christmas. Depending on the location and the company, you can opt for a velvet dress, maybe in burgundy (a chic and less obvious shade of red, for Christmas), but also blue or brown, and pair it with metallic ore black accessories. Alternatively, a pair of trousers or a velvet blazer can be very elegant too, in combination with more opaque and impalpable materials.
GOLD
A golden touch is always good, it brightens your outfit and immediately suggests there's something to celebrate. Moreover, this winter gold and silver shades are particularly trendy. And if gold seems too much, you can always opt for golden accessories or a skirt in this color, choosing to wear something in a neutral shade close to your face.
Pinterest / Stylosophy
RED
Pinterest (Credit: Hellofashionblog)
Why not to put on something red at Christmas? And, if a bright red seems exaggerated or too obvious, you can opt for darker shades like a beautiful burgundy for example, in my opinion even more elegant than a bright red. To look really super chic, pair it with black or opt for a total red outfit: what better time than Christmas to do it?
CHECK
As you may have seen on magazines, blogs, Instagram etc., check fabrics have celebrated a great come back in fashion this year. And they are also suitable for parties, especially if you choose them in a shade of red. They immediately give you a festive touch.
And they can be paired with more elegant garments or used as the real protagonists of your outfit. Especially if the "tone" of your Christmas celebrations is more sporty and cheerful than elegant.
COMFY
At Christmas, especially if you are responsible for the cooking (or if you help with the organization), it is also important to stay really comfortable. For example, I can't wear big heels because I cook for a certain number of people on Christmas Eve. So I have to be able to run back and forth comfortably from the kitchen.
Fortunately it is possible and also easy to add a festive touch even to a pair of jeans. Just combine them with a decidedly elegant top, maybe in a sparkling material or choosing something with lace and sheer transparencies. You can also opt for some shiny accessory, in gold or silver, to create a practical, but also perfectly festive outfit.
If you have to move around a lot, opt for a pair of booties: they make you a few inches taller without limiting your ability to move.
WITH A SPARKLING TOUCH
Needless to say, during the festive season silver and golden shades are always a perfect choice. I really like them worn in contrast (after all it's Christmas, not New Year), combined with opaque, soft materials, like in this look in grey and silver.
BLACK
Obviously, black is always a good idea, and it's also my favorite option when I don't have time (but also wen I do have time, in fact): what's more perfect to always be chic, elegant and to frame your face and your best assets?
I have three favorite options for black Christmas outfits: 1. black paired with some color, like in this beautiful black & burgundy outfit; 2. a total black outfit; 3. a total black outfit realized with pieces with different textures: some bright and sparkling, some opaque or sheer.
WITH TROUSERS
You don't necessarily have to wear a dress to be elegant. A pair of great trousers can be a great choice too, and it allows you to put together a chic, classic, but also practical outfit.
In this case I like to play with contrasts, pairing a pair of masculine trousers with a decidedly more feminine "top" and a pair of high heels.
AVOIDING BLACK
Black is certainly always a great choice, but it's opposite – a total white outfit for example – can be perfect too and also have a great impact. Light colors are soft, sweet and very elegant, both for day and night.
Finally, choosing a bright, strong color that is NOT red can help you create an interesting, original outfit that is perfect for the holiday season too. For example, look at this beautiful outfit with this green skirt! It's stunning and absolutely perfect. A total white outfit can be stunning too.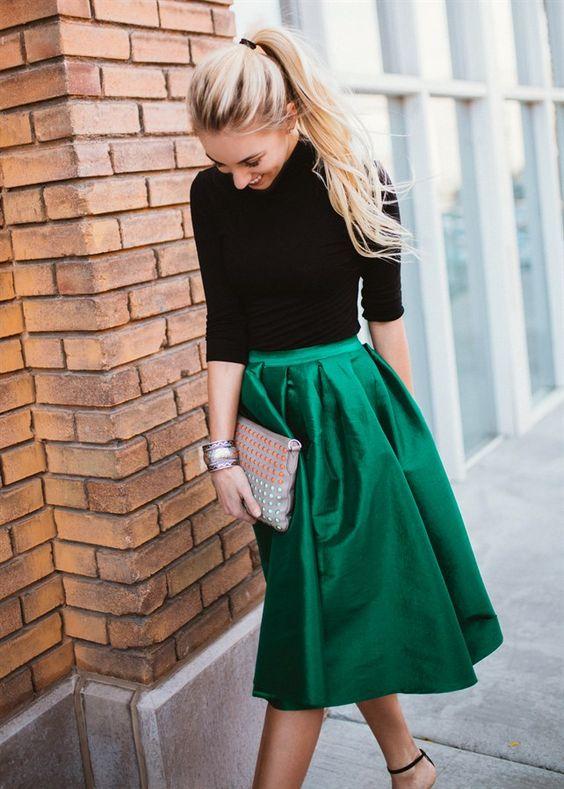 … And some more suggestions…
FORGET ABOUT YOUR DIET
Even if we are on a diet and we promised ourselves to be strict and avoid to overeat at Christmas (I always fail at this), Christmas is certainly not the best occasion to opt for a tight outfit, because you will definitely end up eating more than usual and eating things that don't really help you to stay slim. It's better therefore to choose slightly wider, but still feminine silhouettes.
OPT FOR SOMETHING STAIN-RESISTANT
At Christmas you will kiss/hug a lot of people, help with the cooking, have drinks and play with excited kids, so it's not easy to keep your outfit perfectly clean. Therefore, it's better to choose garments that can be easily washed after and help you hide possible stains, and also to wear a very resistant lipstick.
ADD A SPECIAL TOUCH
Your outfit is not everything, at Christmas and also during the rest of the year. To have great style at Christmas, I would add two things: a great, but not to aggressive perfume, and a beautiful, bright, red lipstick that immediately gives you a festive touch.
---
Looking for great last-minute Christmas gifts ?
Here you will find many great gift ideas for the whole family and for your friends!
WHERE TO SHOP FOR CHRISTMAS WITHOUT SPENDING TOO MUCH:
Like for the rest of the year, to look expensive at Christmas it's not necessary to spend a lot of money. Have a look to your closet first: you certainly already own some great basic pieces to start from.
But if you like or need to have something new, have a look to what these online stores have to offer: by buying online, you will avoid the stress to visit the stores in person during the probably most crowded days of the year and will still be able to spot some great pieces for the Holidays without spending too much.
FIND YOUR BEST OUTFITS FOR THE HOLIDAY SEASON HERE:

Looking for something special? Shop my Holiday Favorites!

P.S. Watch my YouTube video for even more inspiration (turn on English subtitles):
Save this post on Pinterest!