Discovering the perfect Christmas outfits has always been a delightful challenge. We all aspire to be unique and original while also navigating through the cherished customs, like donning something red, which we feel obligated to uphold.
So, how does one strike the right balance in holiday dressing?
Affordable Christmas Party Outfit Ideas: Top Picks

In my perspective, the key lies in discovering one or multiple Christmas outfits, tailored to your schedule, the company you keep, and the ambiance you find yourself in, that artfully blend these traditions with a touch of authenticity.
In essence, the quest is to find fashion solutions that are not only trendy but also effortlessly chic and functional.
When it comes to Christmas outfits, you don't have to splurge; chances are, your wardrobe already boasts excellent staple pieces that can be easily complemented with some well-chosen additions.
The magic lies in the art of combining these items to infuse your ensemble with a festive touch, making it perfect for this special time of year.
If your family tradition revolves around the Christmas Eve dinner, opt for a dazzling look, striking the perfect balance between elegance and restraint. As the hostess, practicality and chicness should go hand in hand.
Simple yet Sophisticated
However, if the true highlight of your Christmas celebration is the lunch on the 25th of December, a simple yet sophisticated outfit will fit the bill—a style admired by all, including the older relatives.
With that said, let me make a more personal note. Perhaps like you, I often find myself teetering on the edge of a nervous breakdown on Christmas Eve.
The rush to complete work tasks until the last moment and the urgency to wrap (or even buy!) the final batch of 26 distinct Christmas gifts each year can be overwhelming.
As if that wasn't enough, I've also taken on the responsibility of organizing the family dinner on Christmas Eve – despite not being a domestic goddess, I embrace the role willingly.
To be honest, amidst this flurry of approximately 24,792 equally stressful thoughts, pondering about what on earth to wear for Christmas is likely the last thing on my mind.
In search of fantastic last-minute Christmas gifts?
Discover a plethora of wonderful gift ideas for both family and friends right here!

With that in mind, and since a couple of readers have already reached out with questions about it, I found it beneficial to create this "What to Wear at Christmas" guide—a sort of self-help aid for myself and, I hope, for you as well!
Outlined below are various outfit combinations, as depicted in these images, that are effortlessly achievable, granting you an elegant appearance without unnecessary complications.
This way, we can concentrate on what truly matters: cherishing moments with our beloved ones.
VELVET
Similar to the previous season, velvet remains incredibly fashionable this year, making it a perfect choice for Christmas attire. Depending on the setting and the company you keep, there are various ways to incorporate velvet into your ensemble.
Consider a stunning velvet dress, perhaps in a sophisticated burgundy hue (a chic and less conventional shade of red, ideal for Christmas). Alternatively, you could opt for shades like blue or brown, pairing them with metallic or black accessories for a striking contrast.
If dresses aren't your preference, fear not, for a pair of velvet trousers or a velvet blazer can exude elegance as well. Combine them with more opaque and ethereal fabrics to create a beautifully balanced and refined look.
GOLD
Adding a touch of gold is undeniably delightful; it brings a radiant flair to your outfit and conveys a sense of celebration. Furthermore, this winter, both gold and silver tones are exceptionally fashionable.
If you find gold a tad overwhelming, fret not, as you can effortlessly incorporate golden accessories or a skirt in this lustrous hue, while opting for a neutral shade closer to your face.
This way, you strike a perfect balance, embracing the trend without overpowering your overall look.
RED
Pinterest (Credit: Hellofashionblog)
Embracing red for Christmas is a classic choice, but if you feel a bright red might be a bit too bold or obvious, consider opting for darker shades like a beautiful burgundy.
In my view, burgundy exudes even more elegance than its brighter counterpart. To achieve a truly super chic look, pair burgundy with black accents, or go all out with a total red outfit.
After all, what better time than Christmas to indulge in the richness of this stunning color?
CHECK
As you may have seen on magazines, blogs, Instagram etc., check fabrics have celebrated a great come back in fashion this year. And they are also suitable for parties, especially if you choose them in a shade of red. They immediately give you a festive touch.
And they can be paired with more elegant garments or used as the real protagonists of your outfit. Especially if the "tone" of your Christmas celebrations is more sporty and cheerful than elegant.
Affordable Christmas Party Outfit Ideas: Top Picks

COMFY

During Christmas, especially if you're responsible for cooking or assisting with the organization, comfort is paramount. For instance, I find it impractical to wear towering heels while cooking for a gathering on Christmas Eve; I need to be able to move around the kitchen effortlessly.
Thankfully, adding a festive touch to a pair of jeans is both achievable and straightforward. Simply pair them with an elegantly sophisticated top, perhaps in a sparkling material or something adorned with lace and sheer details.
Additionally, you can opt for shiny accessories in gold or silver to complete your practical yet perfectly festive ensemble. This way, you strike the ideal balance between comfort and celebration.
If you have to move around a lot, opt for a pair of booties: they make you a few inches taller without limiting your ability to move.
WITH A SPARKLING TOUCH
Undoubtedly, silver and golden shades are always a flawless choice during the festive season. Personally, I adore wearing them in juxtaposition (it is Christmas, not New Year's, after all), beautifully paired with opaque and velvety fabrics, as showcased in this elegant grey and silver ensemble.
BLACK
Undeniably, black is perpetually a fantastic choice and happens to be my favorite go-to option – not just when I'm pressed for time but even when I have ample to spare.
What could be more perfect than adorning yourself in black to exude eternal chicness, elegance, and beautifully frame your face and best features?
When it comes to black Christmas outfits, I have three all-time favorites:
Black paired with a splash of color, as exemplified in this stunning black & burgundy ensemble.
A total black outfit, the epitome of timeless sophistication.
An all-black attire curated with pieces of varying textures: some gleaming and dazzling, others with an opaque or sheer allure. This harmonious blend creates a captivating look that's both enchanting and captivating.
WITH TROUSERS
Elegance doesn't solely reside in dresses; a well-tailored pair of trousers can be an equally excellent choice, offering a blend of chic, timeless, and practical appeal.
I relish the opportunity to create striking contrasts in such instances, combining masculine trousers with a decidedly feminine top and completing the ensemble with a pair of sophisticated high heels.
This juxtaposition of styles adds a captivating flair to the outfit, exuding both strength and grace.
AVOIDING BLACK
Undoubtedly, black is an everlasting great choice, but its opposite – a total white outfit, for instance – can be equally perfect and impactful.
Light colors possess a gentle and sweet elegance, effortlessly suitable for both daytime and nighttime occasions.
Lastly, opting for a vibrant and bold color that deviates from the traditional red can be a wonderful way to craft an intriguing and unique ensemble, perfect for the holiday season.
Take a glance at this exquisite outfit featuring a captivating green skirt! It exudes sheer elegance and is absolutely perfect for the occasion. Moreover, a total white outfit can be equally stunning and mesmerizing.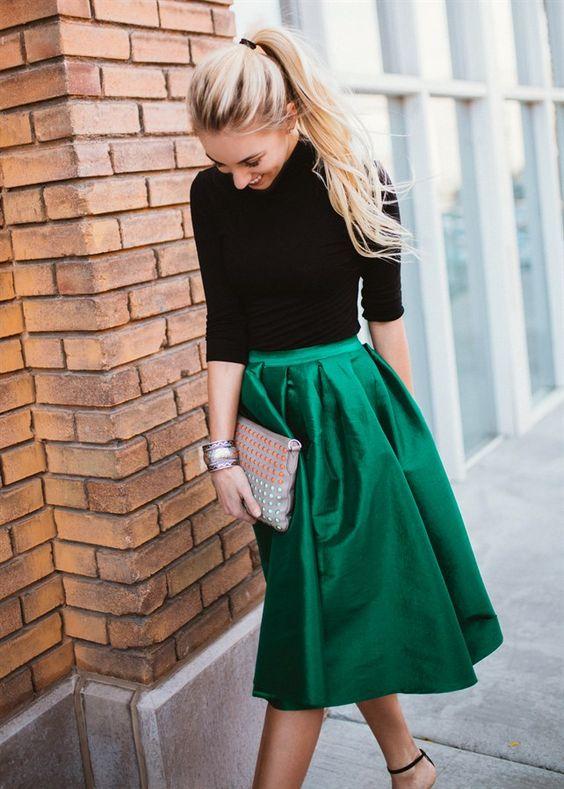 .. And here are some additional suggestions…
FORGET ABOUT DIETING
Even if we've vowed to be strict with our diets and avoid overeating during Christmas (a promise I, too, find challenging to keep), it's important to remember that Christmas is not the time for restrictive outfits. With all the tempting treats and indulgent meals, it's better to opt for slightly looser yet still feminine silhouettes that allow room for comfort.
CHOOSE STAIN-RESISTANT FABRICS
Christmas involves plenty of hugging, kissing, helping with cooking, sipping drinks, and playing with excited kids. Keeping your outfit pristine and stain-free can be a challenge.
Thus, it's wise to select garments that can be easily washed and have the ability to hide potential stains. Additionally, wearing a long-lasting lipstick will help you maintain a fresh and polished appearance throughout the festivities.
ADD A SPECIAL TOUCH
Remember, your outfit isn't the sole factor contributing to great style during Christmas or any other time of the year.
Two essential elements to enhance your Christmas outfits are a captivating yet not overwhelming perfume and a beautiful, bright red lipstick that instantly adds a festive touch to your overall appearance.
These small touches can elevate your style and make you feel even more confident during the celebrations.
Unlock your hair's full potential with our carefully curated list of the best hair products:

---
In search of fantastic last-minute Christmas gifts?
Discover a plethora of wonderful gift ideas for both family and friends right here!
WHERE TO SHOP SMART FOR CHRISTMAS:
Just like throughout the rest of the year, achieving an expensive and chic look at Christmas doesn't require breaking the bank. Begin by exploring your closet; chances are you already possess some fabulous basic pieces to build upon.
However, if you desire or require something new, consider checking out these online stores.
Shopping online allows you to sidestep the stress of in-person store visits during the bustling holiday season, while still discovering fantastic pieces for the festivities without overspending. It's a convenient and budget-friendly way to find your perfect Christmas outfits.
Looking for something special? Shop my Holiday Favorites!

P.S. Watch my YouTube video for even more inspiration (turn on English subtitles):
Save this post on Pinterest!
Searching for the perfect outfit? Read this article: