The Chloé Faye Bag made her first appearance during the spring/summer season of 2015. With its seventies inspired design, its clean, almost geometrical design and its particular hardware, the Chloé Faye Bag became an IT bag from the first moment on.
To acquire the "It bag" status, a handbag usually needs a delicate mix of elements: it has to be immediately recognizable, but in a subtle way, it has to be versatile but elegant at the same time, and not too easy to find.
In addition, it needs to have a modern design, trendy but also classic and clean.
Bag: The beautiful, iconic Chloé Faye bag
MY CHOICE
I chose to buy the classic model, a Chloé Faye in  Motty Grey with champagne hardware.
The Chloè Faye meets all these requirements and since it made its first appearance on the fashion market it has been bought, photographed and desired by many women, including bloggers, influencers, actresses and celebrities.
In short, the Chloé Faye seems to be here to stay.
The two main characteristics of this bag are:
its flat and geometric shape
a very particular hardware, characterized by a large ring with a chain and a hook.
The handbag comes in two versions, small and medium: the first is smaller and has a long shoulder strap and a rectangular shape; the second one is larger and has a typical trapeze shape.
This handbag stays close to the body, while its particular bellows-sealed shape makes it unexpectedly ample.
The bag also has a magnetic closure and a shoulder strap; the latter is adjustable and has been elongated compared to the onder issue of this bag. Therefore, the Chloé Faye can be comfortably worn as a crossbody bag.
The shoulder strap is also completely detachable, so both versions of the bag can also be also worn like clutches, adding even more versatility.
Bag: Chloé Faye Small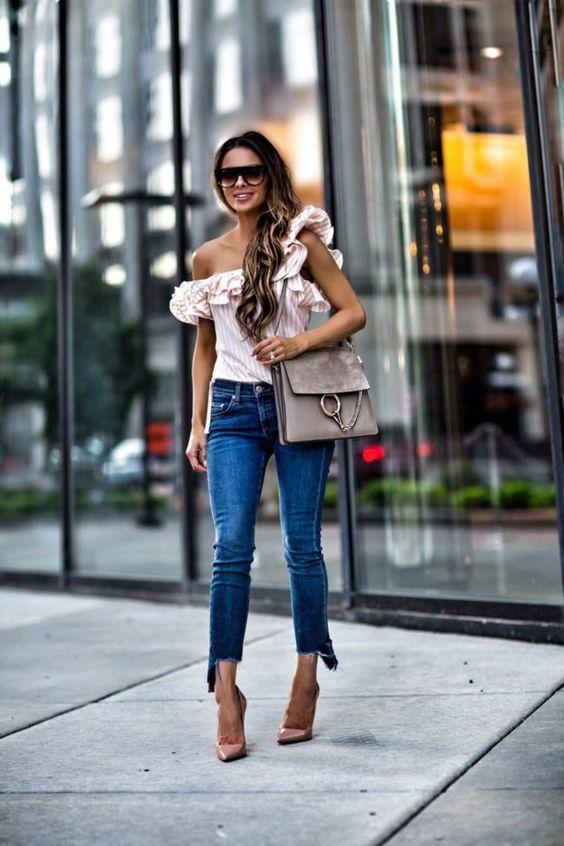 The medium version of the Chloé Faye Bag is also equipped with an internal zipped compartment.
Probably the most popular version of the bag is made of smooth calfskin with a suede flap, but you can also find this bag in other versions, such as all leather, black leather with a python flap, patent leather and snake print leather.
.
A special version of the Faye worn like a clutch
I purchased my Faye Medium in Motty Grey with champagne hardware (a sort of very light gold that offers the advantage of matching well with both gold and silver), at the Chloé boutique in Milan (via Spiga 30). The showroom offers a wide choice of different Chloé bags and is a great place to try the various models on.
After the first couple of uses, I have quite clearly identified the advantages and  the (actually  few) disadvantages of this bag:
PROS:
IMHO this bag is absolutely stunning and thanks to its particular hardware it highlights and adds a touch of coolness even to the most minimalistic and simplest outfits.
Thanks to the adjustable and detachable shoulder strap (which is now longer compared to the previous edition of the bag) you can wear this bag on your shoulder, crossbody or as a clutch.
The bag is larger than it might seem at first: the compartments are not really capacious, but they offer a certain internal capacity.
Even when the bag is full, it remains extraordinarily stable in shape.
It is quite lightweight.
The flat shape visually slims the entire silhouette: some bags make you appear bigger than you are, I find, but this one stays tight to the body and has an almost slimming effect!
The bag comes with a 1 year warranty certificate. You never know!
CONS:
The suede front flap is quite delicate, as the salesperson at the boutique herself admitted. Following her instructions, I sprayed it twice with a special waterproof spray that should make it less sensitive. I haven't experienced any discolorations etc. so far.
The Chloé Faye range offers now two more models: the Faye Jour, a sort of practical and capacious soft case, and the backpack model in two sizes, all characterized by the iconic ring with the hook and the chain.
Kate Bosworth wears a Chloé Faye Day…
… and Julie from the blog Sincerely Jules the Chloé Faye backpack
---
WHERE TO BUY YOUR CHLOE FAYE BAG:
In any Chloé boutique in the world
OR
be a real fashionista, save a lot of money and but it second hand (or even new) on Vestiaire Collective, the uber chic online store for secondhand designer pieces:
For  great, authentic secondhand and vintage (and sometimes even new) Chloé Faye bags, see here.
+ Use discount code  NOTIMEFORSTYLE20 and save 15 EUR off 120 EUR / 20 $ off 200 $ (U.S.) on your first buy!
---
As always  I would like to close my review with some pictures to show how the Chloé Faye can be styled.
Do you like this bag? Which version do you like most? Tell me what you think!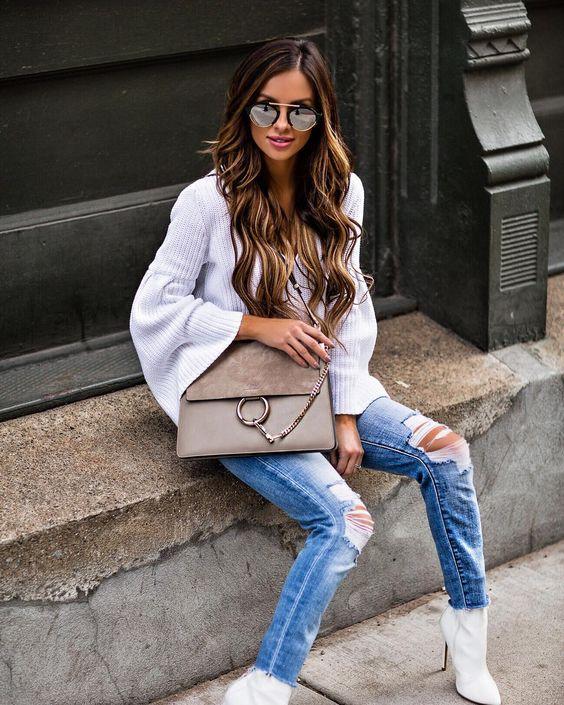 YOU CAN BUY YOUR CHLOÉ FAY BAG HERE:
[fetch ids="1892,1991,1989,1920,1990,1992,1988″ type="columns-4″]