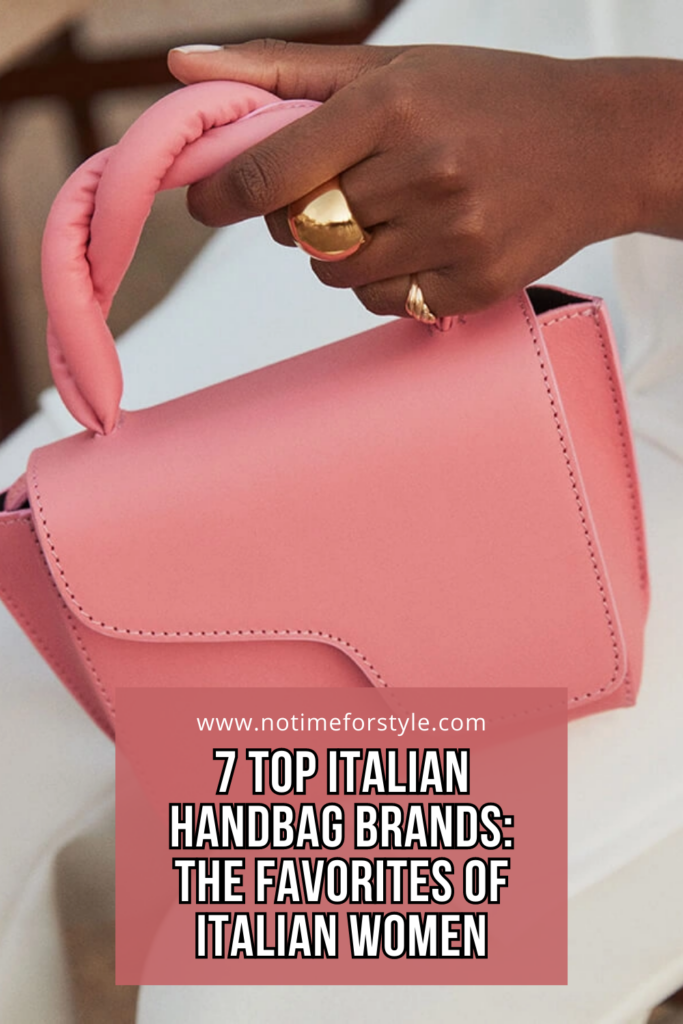 Recently, I've been inundated with requests to delve into the world of exquisite Italian handbag brands and the most captivating mid-range options.
It's no surprise that Italian handbags, even beyond the realm of "designer bags," exude unparalleled allure.
Italy boasts a rich heritage of impeccable leather craftsmanship, harmoniously blending with visionary design, emblematic of the cherished "Bel Paese" concept.
The result? Year after year, an array of true masterpieces emerges in the form of Italian handbags.
These treasures rival even the most prestigious "it bags" crafted by global fashion giants.
Their allure lies in the use of top-notch materials, expert artistry, and enchanting designs, elevating them to the realm of affordable luxury.
In today's post, I present my personal wishlist of six esteemed Italian handbag brands to watch this year. Get ready to be captivated by the finest creations of Italian craftsmanship!
Want to keep your most beautiful bags perfect over time?
Use a purse organizer for your bags. It will keep them in perfect shape and make them look even better!
Certainly, this compilation merely scratches the surface of the boundless world of Italian handbags.
There's a universe of Italian handbag brands waiting to be explored, and I'm eager to unearth even more remarkable brands that have yet to grace my radar.
The journey ahead promises exciting discoveries and an opportunity to expand our knowledge together. So, let's embrace this thrilling quest, delving deeper into the realm of Italian handbags, and unveiling a treasure trove of craftsmanship and elegance that awaits us!
Behold, a concise glimpse into 6 of the most exceptional Italian bag brands that you absolutely must consider acquiring right away:

Research and study of the best materials, experimentation of new processes, and creative processing of materials are the hallmarks of Orciani's beautiful iconic handbags.
Upon observing an Orciani purse, one cannot overlook the striking allure of its leather, complemented by exquisite craftsmanship evident in every intricate detail.
Undeniably, my personal favorite within their collection is the Sveva bag—an epitome of elegance and versatility, offered in an array of leather types, styles, and captivating colors. With great certainty, this splendid Italian handbag shall find its place in my possession in due time!
SHOP MY OUTFITS!
Discover the ultimate fashion inspiration at my "Shop my outfits" blog page!
ATP Atelier proudly celebrates the mastery of leather craftsmanship, perfected over decades in the heart of Tuscany by skilled local artisans. Embracing the essence of fine leather, the brand veers away from fleeting micro trends, opting instead for timeless, classic designs that honor the durability of both the material and our planet.
Their exquisite collections boast an array of stunning leather boots and vibrant colored bags, exuding luxury without compromising affordability.
For those visiting Milan, bringing home a piece from ATP Atelier would make an excellent and meaningful souvenir, capturing the essence of Italian craftsmanship and style.
Furla is synonymous with style, Italian tradition and family business.
The brand was in fact born in 1927 in Bologna and it is known today all over the world thanks to the founders and creators of the maison and their great talent.
Masterpiece of this gorgeous Italian handbag brand are the women's purses, famous all over the world and object of desire of women of all ages. But Furla also produces men's leather goods, suitable both for casual and more formal looks.
My favorite model? Definitely the little Furla Metropolis, object of desire of many women all over the planet. Available in many different colors and fittings, even in several limited editions.
A small, luxurious, trendy object you should absolutely own!
Coccinelle is an Italian fashion company, specialized in leather goods and accessories of the "accessible luxury" segment. Since 2016 it is controlled by the Korean group E-Land.
The declared "mission" of the maison Coccinelle? To celebrate women by creating a product that enhances their natural security and joy of life. And it fully succeeds, thanks to its wide range of luxurious and successful products, loved by women all over the world.
My favorite model? There are several, but one is undoubtedly the iconic Arlettis!
WHERE TO FIND THE BEST CHOICE OF COCCINELLE BAGS:
Zanellato is a young company: in fact, it was founded in 1999, by a young entrepreneur. Nonetheless, it absolutely deserves a place among the best Italian handbag brands to buy in 2021.
Today, with a decidedly unique and unmistakable identity, the company offers sophisticated luxury creations, contemporary and typical of Italian taste.
In just a few years Zanellato's creations have become iconic pieces distributed in the most important boutiques and department stores in Italy and around the world, as well as opening boutiques in Milan, Moscow and Tokyo.
The elegance, refinement and authenticity of the products are the unmistakable expression of "Made in Italy".
The production follows the rules of a sartorial atelier, which combines tradition and continuous research of new designs, generating refined pieces that enhance the true Italian know-how.
WHERE TO BUY ZANELLATO BAGS:
The Bridge purses combine tradition and modernity, nostalgia and joie de vivre, a vintage touch and a green soul. Superior quality materials and great craftsmanship are embodied in handbags and accessories with natural and timeless elegance, made of vegetable-tanned and polished, soft, full-grain Italian leather.
But as fashions pass, the natural, somehow nomadic style of The Bridge remains, inextricably linked to a slow fashion approach.
Some classic handbag designs by The Bridge have recently been revisited, giving life to current and contemporary handbags. They do not lose, however, their slight "country style" allure that is so typical of the brand.
WHERE TO FIND THE BRIDGE HANDBAGS:
In this carousel you can see and buy some of the most beautiful and fashionable models in Italy:

P. S. Are you passionate about Italian bags? Watch this video and subscribe to the channel! (Simply turn subtitles on, it's in Italian!)
Discover My Amazon Favorites !
Dive into my Amazon selection and upgrade your shopping game!