In the quest for timeless beauty, top anti-aging creams play a pivotal role. The desire to retain youthful radiance and tackle the signs of aging has led to the creation of a plethora of skincare products.
Among these, anti-aging creams stand as stalwart defenders against the march of time. As the years pass, our skin undergoes changes that often necessitate a little extra care. This is where the magic of the right anti-aging cream comes into play.
In this article, we delve into the world of anti-aging creams, uncovering their significance and exploring the top 5 creams that hold the promise of ageless skin.
We understand the longing for a vibrant, youthful appearance, and with that in mind, we've meticulously curated a list of creams that could potentially become your skin's new best friends.
Criteria for Selection
Selecting the top anti-aging creams requires a discerning eye and a commitment to quality. We understand the importance of choosing products that genuinely deliver results.
Our selection process involves a comprehensive assessment of key factors that separate the ordinary from the extraordinary.
When evaluating these creams, we consider a variety of aspects:
Ingredients: We meticulously examine the ingredients present in each cream. Ingredients like retinol, hyaluronic acid, and antioxidants often play pivotal roles in combating the signs of aging.
Customer Reviews: The voice of the consumer is invaluable. We take into account real user experiences and feedback to gauge the effectiveness and user-friendliness of these creams.
Scientific Research: Behind every effective skincare product lies a foundation of scientific research. We look for creams that are backed by studies and formulated based on sound scientific principles.
Visible Results: The proof is in the pudding, as they say. We seek out creams that have demonstrated visible improvements in skin texture, tone, and the reduction of fine lines and wrinkles.
Stay tuned as we journey through the cream of the crop, unveiling the top 5 anti-aging creams that have met our stringent criteria.
These creams hold the potential to transform your skincare routine and bring you one step closer to achieving that ageless, radiant complexion you've been dreaming of.
Let's begin our exploration of the top 5 anti-aging creams with the illustrious Charlotte Tilbury Magic Cream.
This cream has garnered attention for its enchanting name and the promises it holds for transforming tired, aging skin into a canvas of radiance.
You can use my Discount Code cristinanFA0K4 to save money. It works on the whole Charlotte Tilbury product range.
Key Ingredients and Their Benefits:
The magic behind Charlotte Tilbury's cream lies in its blend of powerful ingredients. Hyaluronic acid, known for its exceptional moisturizing abilities, teams up with peptides to visibly plump and hydrate the skin.
Vitamin C and E provide antioxidants, aiming to protect against environmental stressors while promoting a more even skin tone.
Brand, Pricing, and Availability:
Charlotte Tilbury is a respected name in the beauty industry, renowned for its luxurious skincare and makeup offerings.
The Magic Cream, a favorite among makeup artists and celebrities, showcases the brand's commitment to quality.
While this cream falls in the premium category, its reputation and effects make it a worthy investment. You can find it online HERE.
Explore my curated selection of the top anti-aging products:

User Testimonials and Results:
Users have sung praises about the Magic Cream's ability to provide an instant boost of hydration and a radiant glow. Some have reported visible improvements in fine lines and overall skin texture over consistent use.
While individual results may vary, the Magic Cream's blend of ingredients has certainly cast its spell on many.
Moving on, we introduce the Neutrogena Rapid Wrinkle Repair Daily Face Moisturizer, a beacon of hope for those seeking effective anti-aging solutions without breaking the bank.
Key Ingredients and Their Benefits:
Neutrogena's cream harnesses the power of retinol, a well-known and potent ingredient in the fight against wrinkles.
Its rapid wrinkle-repair formula aims to deliver visible results in a short span. Hyaluronic acid adds a burst of hydration, maintaining skin plumpness and smoothness.
Brand, Pricing, and Availability:
Neutrogena, a household name in skincare, offers accessible solutions without compromising on efficacy. The Rapid Wrinkle Repair Moisturizer caters to those looking for an affordable yet effective anti-aging option.
Available in drugstores and online, it brings the promise of youthful skin to a wider audience.
User Testimonials and Results:
Users have shared positive experiences with the Neutrogena Rapid Wrinkle Repair Moisturizer, praising its lightweight texture and ability to visibly diminish the appearance of fine lines.
Many have appreciated the inclusion of retinol, which is often a staple in dermatologist-recommended regimens.
In our quest for the best anti-aging creams, we arrive at the Roc Skincare Multi Correxion 5-in-1 Daily Moisturizer.
This cream promises a multi-faceted approach to address various signs of aging and provide a comprehensive solution for smoother, younger-looking skin.
Key Ingredients and Their Benefits:
Roc's Multi Correxion Moisturizer is armed with an array of ingredients that work in harmony.
The inclusion of retinol aids in reducing the appearance of wrinkles, while antioxidants like vitamin E provide protection against environmental stressors.
Sunscreen compounds help guard against sun-induced aging, and glycolic acid exfoliates to reveal a fresher complexion.
Brand, Pricing, and Availability:
Roc Skincare is known for its commitment to clinical skincare solutions. The Multi Correxion Moisturizer reflects this dedication, offering an all-encompassing approach to anti-aging.
It's a mid-range option that combines multiple benefits in one product. Look for it at drugstores and online platforms.
User Testimonials and Results:
Users have reported noticeable improvements in skin texture, tone, and the reduction of fine lines. The cream's multi-action formula has drawn praise from those seeking a holistic solution for their aging skin concerns.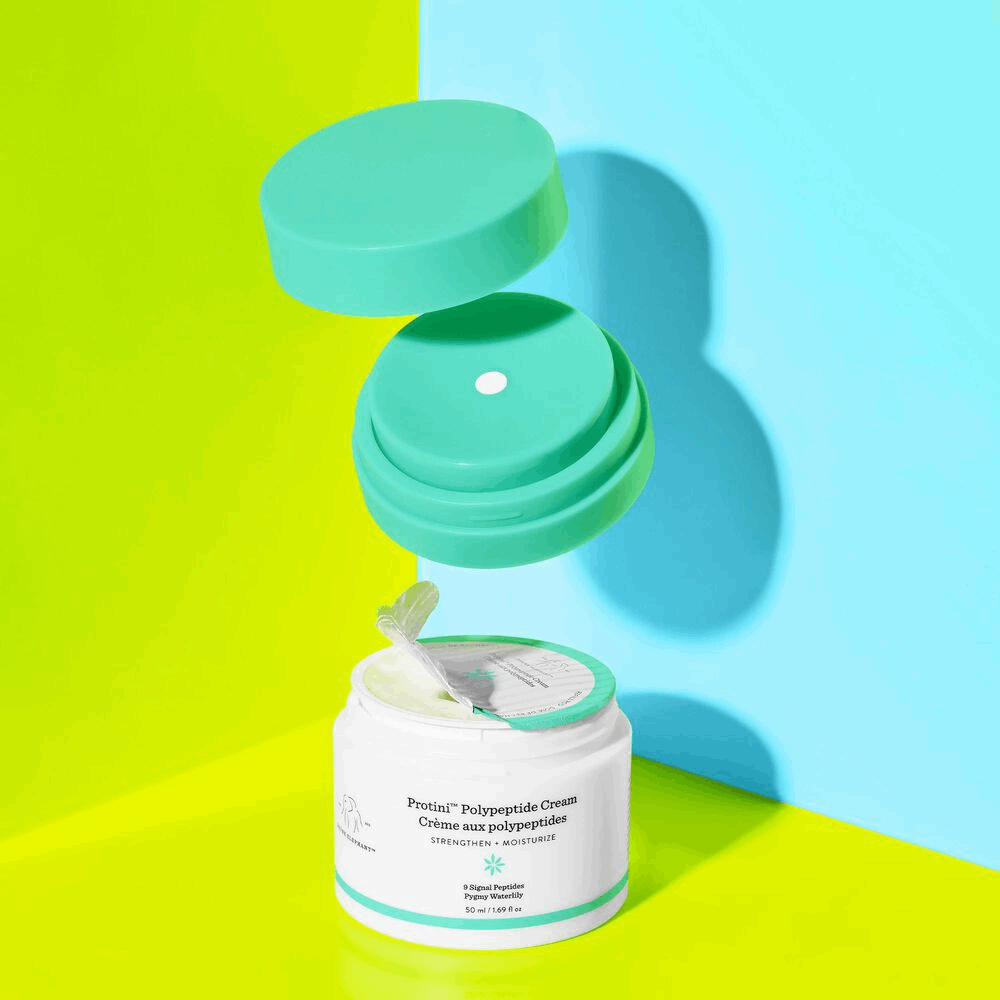 As we approach the midpoint of our list, we introduce the Drunk Elephant Protini™ Polypeptide Firming Refillable Moisturizer, a product that has garnered attention for its unique approach to anti-aging.
Key Ingredients and Their Benefits:
Drunk Elephant's Protini™ Moisturizer boasts a peptide-packed formula that aims to enhance skin's firmness and elasticity.
Signal peptides support the skin's natural renewal process, while pygmy waterlily stem cell extract nurtures and replenishes. Nutrient-rich ingredients come together for a youthful complexion.
Brand, Pricing, and Availability:
Drunk Elephant is celebrated for its clean and innovative formulations. The Protini™ Moisturizer aligns with the brand's ethos, offering a luxurious experience with a focus on skin health.
Though positioned in the premium range, its unique blend of ingredients and results-driven approach justifies its value. Seek it out at select retailers and online.
User Testimonials and Results:
Users have lauded the Protini™ Moisturizer for its lightweight texture and quick absorption. Many have experienced improved skin elasticity and a more hydrated appearance.
Drunk Elephant's commitment to quality ingredients has resonated with those in pursuit of effective and ethical skincare.
Explore my curated selection of the top anti-aging products:

As we draw closer to the zenith of our list, we introduce you to a true contender in the realm of anti-aging skincare – The Rich Cream by Augustinus Bader.
This cream carries with it a reputation for luxury and innovation, promising to cater to the needs of aging skin.
Key Ingredients and Their Benefits:
The Rich Cream showcases the brilliance of Augustinus Bader's TFC8® technology, a complex blend of amino acids, vitamins, and synthesized molecules.
This technology aims to support the skin's natural processes, aiding in cellular renewal and rejuvenation. With a rich, velvety texture, this cream aims to deeply nourish and transform your complexion.
Brand, Pricing, and Availability:
Augustinus Bader is known for its breakthrough approach to skincare, and The Rich Cream exemplifies this approach. While it falls within the premium range, the science-backed innovation and high-quality ingredients justify its value.
Available through select retailers and online, it offers a chance to experience cutting-edge skincare.
User Testimonials and Results:
Users have reported experiencing improved skin texture and a noticeable reduction in fine lines and wrinkles. The transformative effects of TFC8® technology have resonated with those looking for a potent anti-aging solution.
How to Choose the Right Cream
Selecting the perfect anti-aging cream for you involves understanding your skin type, concerns, and preferences. Here you find a guide to the best skin-care devices for your skin type and concern.
Remember, every individual's skin journey is unique, and what works best may vary.
Explore my curated selection of the top anti-aging products:

Conclusion
In a world where time leaves its mark, investing in quality anti-aging creams becomes a powerful ally in preserving youthful beauty.
The top 5 anti-aging creams we've explored stand as champions in the fight against aging, each offering a distinct approach to achieving radiant, ageless skin.
As you embark on your skincare journey, consider these creams as your companions in unlocking ageless beauty. Also read this article, which is a short guide to unveiling a more youthful version of yourself.
Shop and Save Money
Shop and Save with the Extensive Discount Selection Exclusively for The Readers of This Blog!