What 2023 hair trends are on fashion right now? Being pretty and fashionable is an aspiration for many women, regardless of age.
But often, trying to keep up with the latest hair fashion trends while respecting our facial features can seem like a daunting task.
With so many different looks to choose from, it's hard to find the perfect hairstyle sometimes.
In this article we will explore some of the most popular hair fashion trends 2023 for women.
So if you're looking to update your current hairstyle or try something new, read on for inspiration!
Which 2023 hair cuts are fashionable right now?
It may be difficult to predict what will be in fashion in the years to come, but one thing is certain: hair will always be an element of our style.
Whether you are looking for a new style to try or simply want to update your current hairstyle.
Here are some hair fashion trends 2023 according to the most renowned fashion magazines:
Smooth as can be
Loose, ultra-straight and ultra-shiny hair, full of shine, so silky that it "squeaks" in your hands. Ideal for heads with important lengths, the haircut that best enhances them has an oval shape. To achieve this hairstyle perfectly, the right tools are important:
Braids, but bold
This year's braids are maxi, rather thick, sometimes long, even decorated with flashy accessories. In short, flashy. We have seen them a lot on the spring-summer 2023 fashion runways. They add a touch of character to the fashion looks to be worn in the coming months.
The zigzag parting
All the rage in the 1990s, thanks in part to personalities such as Jennifer Aniston, the zigzag parting is back this year for both loose and gathered folds. It helps to enliven the hair and sharpen facial features.
Indispensable ally, a fine comb of this type.
The bixie cut
A short bob or a long pixie: this is the bixie haircut (from the cross of bob and pixie), also called a lop (from the cross of long and crop).
More structured and shorter than a bob bob, but not as short as a pixie cut, the bixie is to be worn disheveled and a bit unruly.
It is suitable for those with straight hair, but also does not clash with wavy hair.
Natural curl is back, even on the fringe
The natural curl is back, preferably left to air dry. Many actresses are showing how this style can be worn with class, if managed and groomed properly.
The essentials to achieve it:
Ponytails and pigtails
The many examples we are seeing on social media, from Jennifer Lopez to Chiara Ferragni, show that this style is suitable for all ages, if it is not taken to extremes.
Valuable allies, in this case, are functional but chic elastics, like these, and a comb.
What does hair fashion 2023 over 50 propose?
Looking good after 50 also means keeping up with trends. Hair fashion in 2023 is all about keeping us fresh and youthful.
So if you're looking for ways to update your look, read on! Whether you're aiming for a trendy style or something more classic, there's something for everyone this year.
The most popular cuts over 50 are medium-length or short, although more and more women prefer long. And many can even afford it: as long as it is groomed, not excessive, with color and streaks always in place, otherwise it gets old and it is better to fall back on a short cut.
In addition to haircuts over 50 that are always current, such as the bob in the short or medium version and the bob, this year comes the Bixie, a slightly softer and longer pixie cut, which we mentioned above.
How to test haircuts online?
Today you can even try out new haircuts online – with the help of apps!
To use it from your PC, log on to the L'Oréal website and select Try a new hair style (if you want to try a new hairstyle) or Just color my hair (if you just want to change the color of your hairstyle).
Now you can decide whether to use a photo of your own or to use one of those available on Style My Hair: press, then, the Pick from gallery button to upload a photo of your own or Choose a model if you want to use one of the available photos as a model.
What is meant by medium hair?
This is a question I am often asked, and I too have sometimes wondered about it.
There is no single answer to this question, as the perfect medium-length hair style for each woman depends on her facial features, hair type and lifestyle.
However, in general terms, mid-length hair refers to a style that is long enough to tie your hair back in a ponytail or bun, but short enough to still be manageable without too much trouble.
If you are looking for a style that is stylish and easy to manage, then medium length hair might be perfect for you!
What are the most fashionable women's medium length haircuts this year?
If you are looking for a haircut that is elegant and giving, but also practical, then you should consider a mid-length style.
There are many different options to choose from, so you can find the perfect cut for your face shape and hair texture. In addition, mid-length cuts are very versatile and can be worn both casually and formally.
Among medium haircuts for women over 50 as well as for younger women, the real undisputed protagonist will still be the Long Bob, but with some reinterpretations.
Like, for example, a wonderful bangs to be studied with your trusted hairdresser.
Alongside the long bob, there will also be the timeless carré cut with a scaled-back fringe, which will represent the ultimate medium cut for 2023.
The trendiest version, the medium haircut that really rejuvenates, involves soft natural waves. To achieve it, you only need an effective, state-of-the-art curling iron – or a great yet delicate hair straightener.
Based on my personal experience with these kinds of tools, I recommend these two models, which allow you to make lots of fashionable haircuts:
Which haircut makes you look younger?
Are you looking for a rejuvenating haircut? Whether you're looking for a new style or just a little refresh, there are haircuts that will help you achieve the look you want.
But the really important thing is to adapt one's haircut to one's features and, more generally, to one's entire physicality.
Cuts that rejuvenate: short hair
Past the age of 40, it is no longer necessary to necessarily aim for short hair.
In fact, it would be good to avoid uncovering the face too much, so as not to highlight wrinkles and expression lines.
That's why the right cuts that rejuvenate should play with shorter locks around the face, to be artfully enlivened with the help of a hair straightener or a state-of-the-art curling iron.
If you love your hair short, one of the best cuts remains the pixie cut.
But the secret to perfect cut that rejuvenates is to play wisely with volume, especially if you have wavy or curly hair.
Long haircuts that rejuvenate
The first rule for maintaining long hair after 40 and even after 50, as so many women do now, is to have it healthy and well-groomed.
Hair that is really too long should be avoided (better a medium-length of a few fingers past the shoulder blades) and the combination of gray hair+long, unkempt haircut.
For long haircuts that rejuvenate, the best choice is to opt for a light layered bob, playing with scaling and small asymmetries. Ask your hairdresser for advice.
Instead, avoid long, straight hair that falls flat along the face. In fact, this cut highlights the inevitable "falls" in skin tone and facial features.
What about the bangs?
In the search for cuts that rejuvenate, the question of bangs is very delicate. Avoid cuts that are too geometric (this is in general, not just for bangs). They age so much, contrasting unpleasantly with softer, less toned features, the "gift" of age.
Better is a skillful play of parading wisps, of see-through.
If the bob and the bob are among the favorite cuts of many women in show business, it is because they are the ultimate rejuvenating cuts. Of a gorgeous medium length, they really know how to freshen up the image.
Avoid bombastic and overly bulky cuts: they weigh you down.
For medium-length haircuts that rejuvenate, the optimal choice is often a Shag or an asymmetrical, scaled Wob, which is easy to achieve even if you have wavy or curly hair.
Here, too, to create soft natural waves and keep bangs and topknots under control, use a hair straightener or a state-of-the-art curling iron. They will be your best allies!
Which hair color makes you look younger?
The right shade can really make a difference when it comes to achieving an anti-aging effect for your hair. Imagine all the power of shades that "lift" your vito, combined with rejuvenating cuts that help reduce wrinkles and take years off your face!
The best way is to use subtle colors that give off as natural a glow as possible without being too harsh on the skin.
That's why it will be the job of hair color to rejuvenate the face, softening the signs of aging. The most important thing is to respect the complexion, according to the dictates of color analysis.
The complexion is most important: take advantage of these tips!
A main factor to consider in achieving the perfect combination of haircuts and hair colors that rejuvenate is skin undertone. In this way, dark circles, wrinkles and blemishes are significantly less visible.
Often, the hair color that rejuvenates the most is the low-contrast color. Therefore, automatically opting for blond, perhaps platinum, as so many women do, is really wrong.
What hair color ages fair complexions?
When the skin is fair, hair colors that rejuvenate will simply have to bring out this feature. Certain shades of blond as well as coppery red or brown with lighter undertones are perfect for this purpose.
If the undertone is pinkish, then, very beautiful nuances are also light brown and toffee.
Beware of the risk posed by full browns without streaks: as full hues, they make the hair appear thick and full, but to match very light complexions, the ideal is to opt for palette lightenings on the lengths, with darker roots and lighter tips.
Aging hair colors: beware of dark dyes

For hair colors that truly rejuvenate, it is best to avoid overly dark and intense colorations that create too sharp contrasts.
The best choice are neutral, cool or warm shades – depending on your armorial season, of course – that can create harmonious shades on the hair. The end result, in fact, must above all be luminous to truly rejuvenate.
Does blond always rejuvenate?
Go for streaks and balayage instead.
The perfect allies to avoid aging hair colors are balayage, shatush and degradé.
These techniques add subtle highlights to locks while softening facial features-with guaranteed anti-aging action!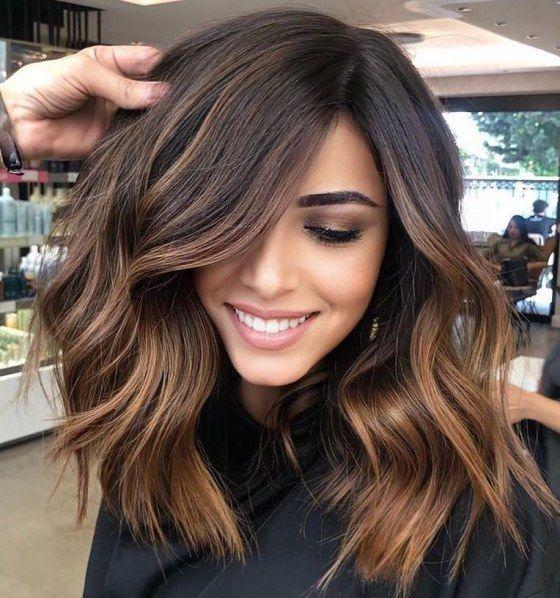 For example, ash blonde over the entire length will age, while applied to individual strands can be rejuvenating and give you that refined look.
The power of lightening is to soften the features, removing some years from your features. Ideally, freehand techniques should be used for "strategic" points of the hair.
How to choose the haircut according to your face shape?
When choosing a haircut, the most important thing to consider is the shape of your face.
The right haircut can enhance your best features and mask any flaws, while the wrong one can make you look older or completely unflattering.
So how do you find the perfect haircut for your face?
This is a very extensive topic, which necessarily requires a personalized approach.
Each of us should study ourselves thoroughly, because not always the hairdresser we trust has the kind of sensitivity and good taste it takes to study the truly most giving cut, capable of taking off pounds and years in one fell swoop.
What haircut for a round face?
Round faces are very pretty and help you look younger, but they also need to be enhanced.
Medium or long hair is preferable to a short bob.
Avoid full bangs (better a side parted topknot that leaves the forehead free) as well as evenly cut locks that tend to squash the face into a heavier shape.
Soft smooth waves work great, and making them is easy with a straightener like this. It only takes a few moments!
What haircut for an elongated face?
According to experts, long cuts are ideal for an elongated face, whether they are curly, straight or wavy.
In fact, when the hair is much longer than the face, for an optical effect, it will look less elongated.
On the other hand, bob cuts at chin height should be avoided, as well as scaled cuts and very flat, smooth cuts that further emphasize the length of the face.
In short, although the future of fashion is always difficult to predict, we can be sure that hair will continue to play an important role.
We have seen some interesting trends in recent years, and as you can see, there is no shortage of news in 2023 women's hair fashion as well.
An important aspect, in any case, is that the haircut we adopt enhances us to the fullest, rejuvenates us and gives us a modern look. Moreover, it must be absolutely manageable with ease.
Finally, below you will find a roundup of useful allies for our hair that will pay for themselves 1000 times over!

P. S. Are you passionate about fashion, beauty and wellness for women over 50? Also follow me on YouTube (turn on subtitles):