2023 jeans trends: which jeans to buy this year to refresh our personal jeans collection and our outfits?
First of all, it seems that the fateful moment has really arrived, this time: after several seasons in which we had been "threatened" that skinny jeans were going down, this time they really seem to be a bit out of fashion.
Are skinny jeans still on trend?
And I admit it: it's a bit of a trauma, because besides having a physique suitable for skinny jeans (my legs seem to age miraculously better than other parts of my body), I also found them extraordinarily versatile.
From day (with a low ankle boot or a pair of medium heeled sandals) to night (with a more feminine, high-heeled shoe), they were perfect for so many outfits!
Also, the models among the 2023 jeans trends are really many.
WHAT'S NEW ABOUT DENIM IN 2023
The concept, in general, seems to be a bit like this: anything that isn't skinny, especially if it's short at the ankle, is in fashion this year and creates a "2023" touch in your look.
Here you find my personal selection of the best denim to buy 2023 :

Obviously, the 2023 jeans trends discourse is more complex than that and the cuts are really many, all with names like "cropped flare", "culotte jeans" and so on; but by now you know me and you know that I like to simplify and get straight to the point.
But beyond the multiple denominations ( have a look at this post), in this post I would like to propose you a survey of the 2023 jeans trends (or, at least some of them: there are so many!).
All the images are taken from Pinterest, which is really a great source of inspiration not only to view the various trends and start to understand if they are suitable for us or if we like them but, also, to have some great tips and inspiration on how to wear them!
Cropped bootcut/flare jeans, probably my favorite cut of the 2023 jeans trends…
Easy to wear, the important thing is to match them with the right shoes, like the sock boots we have seen these last seasons.
WHERE TO BUY TRENDY, CONTEMPORARY JEANS?
You can find some of the trendiest models of 2023 on Amazon at an incredible price: this is the case of the Levi's 501 Cropped Jeans , one of the trendiest models of 2023 that suits almost every woman.
An incredible choice of well-known brands, but their own brands are gorgeous too, with an excellent quality-price ratio: SEE HERE.
For high end jeans, have a look to the incredibly fashionable choice on Farfetch: SEE HERE.
Endless choice, great prices, free returns: SEE HERE.
Great return of the straight leg jeans: to avoid the "trunk" effect, opt for a short ankle-length version: it's almost always slimming!
Black jeans: they are ideal to enhance the 2023 jeans trends with unusual cuts or, in general, wider and slightly voluminous models…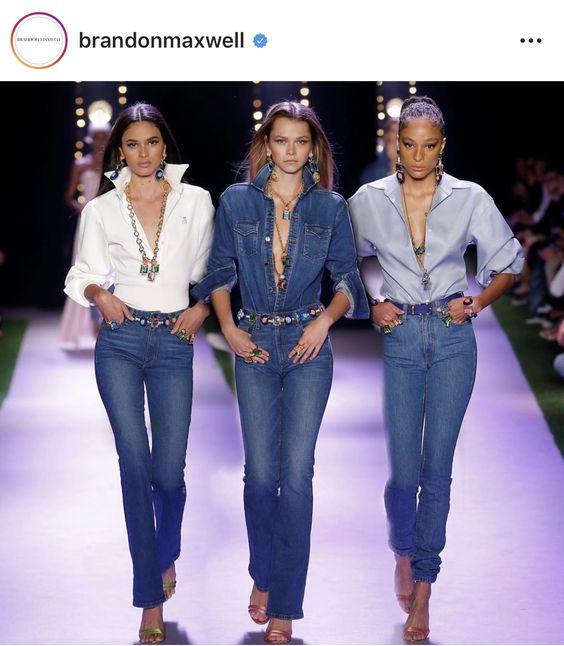 Among the 2023 jeans trends, the good old slim bootcut jeans is back. Ideal for those who want a more sexy and feminine cut (which, let's face it, are not very present among the 2023 jeans trends).
Finally, a few tips for wearing trendy jeans in 2023:
Rule No. 1, in fact, seems to be "everything goes, as long as it's not skinny jeans"! So, try out all the 2023 jeans trends that you like and attract you.
Also, there's a perfect shoe for each jeans trend: often it's just a matter of finding the right shoes! So, if you like wider styles, try balancing them with a sock boot. And, later on, with shoes that leave your ankle completely free.
Try cropped jeans
Do you find some cuts difficult to wear? Cropped is (almost) always better! Many new fits are more up to date and look better if chosen in a cropped version.
Balance your jeans with the right top. It's fine to wear culotte jeans if you like them, but combine them with a tighter top. Also, with the new long and slightly oversized blazers, it's better to wear a slim leg jeans.
… and a final note on skinny jeans:
You're not ready to give up skinny jeans completely in 2023? Neither am I! To wear them in 2023, try matching them with one of the following: long and oversized blazer; long and oversized coat with waist belt, leather jacket, a dress on top, which turns your skinny jeans into leggings. The effect is amazing!
My personal favorites:

P.S. Watch also my video on the same topic (Turn on English subtitles):
P. S. Want a pair of jeans that are truly universally flattering?
Go for a pair of Levi's 501 cropped Jeans! I'm using mine almost non stop and almost all of my friends have wanted them!
Discover my favorite fashion, beauty and lifestyle products for women over 40: